I don't think I'll be splitting my vacations between the beach and the cliffs anymore, but it begs the question, which is better? For me it's the cliffs.
I love the how the ocean becomes a peaceful void as soon as the sunset lightshow is over. The total blackness spreads out infinitely before you. All sounds fade, save the breeze playing wind chimes in a distant tree.
As you drift off, the gentle lapping of wavelets on the cliffs rock you to sleep and keep your dreams irie. An hour before sunrise they mix with your dreams to launch astral adventures as you rise through the waves into morning consciousness.
The breakfast at White Sands was excellent, if a bit expensive, but there's always a premium at a resort. I headed down to the Surf & Talk Café, about half an hour's stroll down the beach road with my laptop over my shoulder. My plan was to blog daily from Negril and by Tuesday, five days in, I'd only posted twice.
After some communicating with the outside world I headed across the street to Selina's for a cup of coffee and a visit. I got all caught up with what's going on in Negril, what fellow boardies were in town, and how the school they're building with the help of Venezuelan soldiers was going.
Later that afternoon I decided to walk north on the beach road to check out that scene. My destination was Margaritaville, I was hoping for some bikini clad co-eds, but after a half a dozen beers and another splendid sunset, I found myself on the fringes of a discussion about US trade policy vis-Ã -vis the Caribbean shipping industry. Ok maybe we did a few shots too.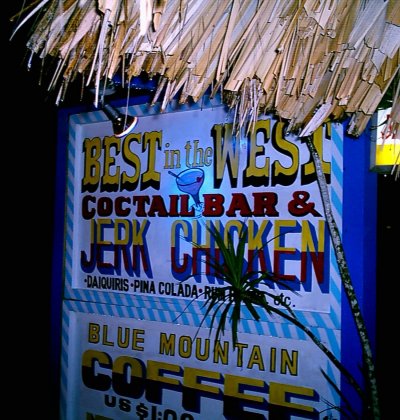 Heading south on a darkened Norman Manley Boulevard, I dodged taxis till my grumbling belly made me cross the road to visit "Best of the West – Boston Beach Style Jerk Chicken Stand." I ordered a beer and a large jerk chicken platter while striking up a slightly slurred conversation with a young Jamaican woman selling a side of loving to go with my dinner. I declined her offer and headed back to White Sands for dinner and a movie in my air conditioned room.
I took a quick shower, popped a movie into my laptop's DVD player, cracked open a fresh Red Stripe and dug into the best Jerk Chicken in Negril. It's all in the packaging. The way they use one piece of tin foil and manage to keep the rice and peas and chicken separate, all topped with that big hunk of bread infused with the essence of the whole meal in semi-gooey wonderment. Aww Yeah!
I was lost in my meal, I had a serious buzz on, I was sitting in my boxers, and I was eating with my fingers. Probably not a pretty sight, but I tell you, I was in culinary heaven! I finished the meal, belched loudly (an Irish compliment to the chef), lit a Cuban Montecristo, and enjoyed "Shrek 2" for the third time as my night faded to black.
Wednesday
The morning found me a bit fuzzy, but full of energy since I'd slept well. Today I was supposed to meet up with a lady friend of mine, but I'd received an email a day ago telling me she decided to nix her trip at the last minute. Part of me was disappointed, part of me was relieved, and yet another part of me had been prepared to woo her with my good looks and boyish Philly charm. What can I say? Women just melt when I say "Yo!" It's a gift.
Actually when we first started corresponding I thought she was a he, she'd responded to a few of my early story posts with an androgynous handle. Somehow that got straightened out and in the next few months she encouraged me to write and we became email buddies.
It was cool, but at the same time it kinda freaked me out. She came to know me through my writing, through my unguarded openness on the page. As opposed to my general lack of smoothness around women I don't know. It was as if she was getting to know me from the inside out.
When I write I throw off the baggage I carry in my off page life, I delve into the feelings and emotions behind everyday experience. My spirituality is bared for all to see, how would she reconcile both Vinnys from Philly? Hell, sometimes even I have a hard time with it, but now she wasn't coming so all my angst was moot.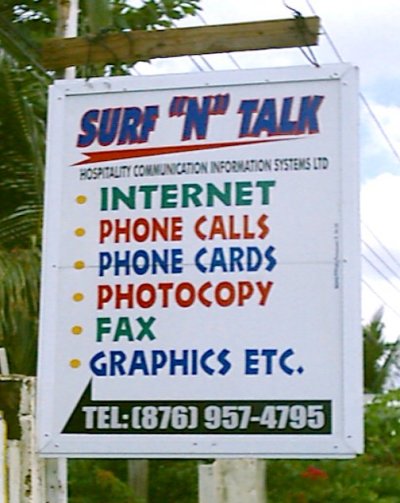 I headed to the internet place to post a few pics on the blog and tried to say nice things about White Sands. It rained like crazy while I was there, so I hung out for a while and made faces into the Webcam.
I continued my walk into town, past Selina's, the Merrills's, Kuyaba and Coral Seas, the heat was stirring up the humidity and suddenly town looked really far away.
I decided to stop in at the Yoga Center to say hello and see if the girls I'd met on the bus into town were around. I had a nice visit with the Yoga folks, but the girls weren't there, so I left a message and headed on down the road.
It's amazing how fast a torrential thunderstorm can dry up in the August Jamaican sun. It had been less than an hour and downtown Negril already looked as dry as Mogadishu. The people in town seem different in slow season, the sellers are a bit more earnest, the panhandlers more aggressive, the shop keepers seemed curt, and smiles didn't come as easy. Maybe it was the heat, but I felt stress in the air, it seemed out of place here.
I hit the ATM for ten thousand Jamaican dollars and felt a pang of guilt. Getting a glimpse of just how close these people are to real hardship and just how far I am from it. So much of the money made here leaves here. It's a shame really, though at the same time the relative cheapness of the place is a factor in my choosing to come here time and time again.
As I crossed the bridge over the South Negril River a car with the security guy from the Yoga Center hanging out the window approached me. "Philly Mon! Philly Mon!!" he shouted as the car came closer, and there in the back of the car was Vivian, her friend and the little girl. Vivian seemed quite animated.
Vinny

Leave a Comment January 13, 2006