Ahh what a welcome sight that Guinness tap was as we finally got into Shannon Airport in County Claire Ireland, but we were still far from our destination.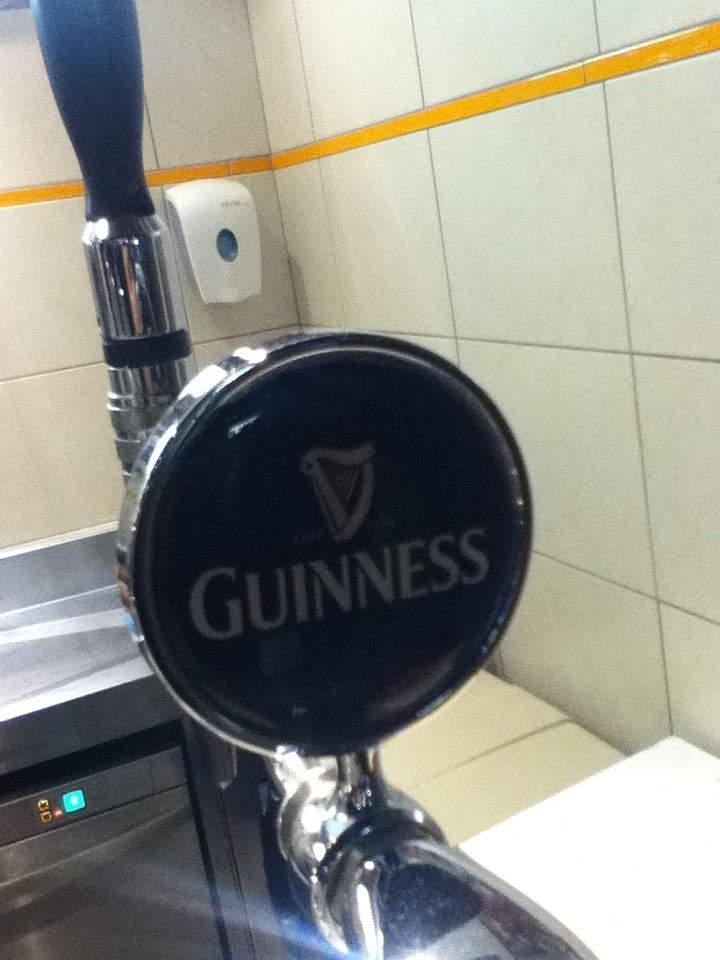 No, I didn't actually order a Pint of Guinness upon arrival. It being 5:45AM local time I felt it a wee bit early and opted for airport coffee, and then we went searching for our bus to Dublin.
Yes a BUS to Dublin! We arrived at JFK about 3:00PM for a 5:40PM flight and Aer Lingus would not let us check-in. 3:30, then 4 o'clock, and still we could not check in. The line began to grow longer and angrier as time wore on. Luckily, we were near the front of the line so we were among the first processed when the line started moving.
The check-in kid seemed stressed as I gave him my paperwork, and in almost a whisper he said, "Sir, I'm afraid your flight has been cancelled." Yes, CANCELLED! But before I could get too pissed, he quickly offered us seats on a 6:20PM flight to Shannon with connecting bus service to Dublin.
Yeah its a pain in the ass, not to mention adding almost four hours to our trip, but at least we could leave that night. Many people in the long line did not get that option. Nice job Aer Lingus! (note: Irony)
We boarded and had a nice flight to Shannon, and the morning drive to Dublin Airport afforded us a pretty ride through the Irish countryside. From Dublin Airport it was a quick run to Dublin City Centre and to our hotel The Arlington O'Connell Bridge.
It was about 9:30AM by that time so we stored our bags at the hotel and staggered out into the Dublin morning to fine some food and some coffee, and to then get into what Dublin had to offer.
More to come . . .
Vinny
Leave a Comment April 19, 2012