Archives – September, 2009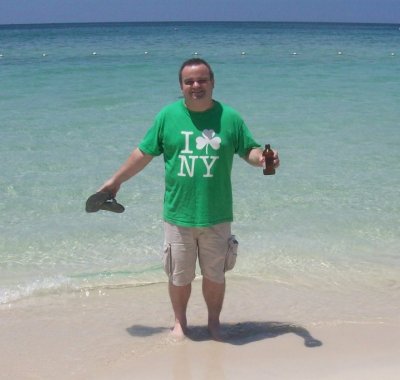 1 Comment September 22, 2009
Woo Hoo! Making my last minute packing decisions, stuffing the new suitcase, and having second thoughts on my book selections, which are all par for the course.
Flight info: Flying from JFK to Montego Bay on Air Jamaica Flight #0010 with a scheduled arrival time of 3:35PM.
Negril Transport: Usually I take the J.U.T.A. shuttle to Negril for $20US, but this trip with my parents I hired Kenny from Negril. Kenny will pick us up as soon as we clear Immigration and he'll ferry us to sunny Negril in his big comfortable van stocked with snacks and Red Stripes.
Hotel: As usual it's another stay at the wonderful Blue Cave Castle. I'll be in Deluxe #1 and Mom and Dad will be in Superior #10 just across the yard near the coffee hut. Mom and Dad opted for a few creature comforts like a TV and Air Conditioning, though I'm not sure if Dad will be able to get the Giants game on Sunday.
Plans?: We don't have much planned, there are a few things I'd like to do though. I'd like to do a beach day up at Half Moon Beach, and a day trip out to Black River and its environs. I've already tentatively booked Kenny for the Black River trip. I'm not sure if Mom will be cool with the fishing boat cruise up river, but I'm sure we will find some mutually accessible activities. I'd love to go out to Treasure Beach, and Alligator Pond, or up into Cockpit Country.
No matter what we choose we will have a great time! I'll be posting with pics and news, so check back often!
Peace,
Vinny

Leave a Comment September 11, 2009
I loved this list by my pal Marko, so I stole it (Shamelessly I might add).
Kuyaba for romantic dinner and drinks on da beach
Boat Bar for 200J Red Stripes on da beach
For Real for 150J Red Stripes on da beach
Selinas on Sunday for Brunch on da beach road
RealNegril.com live webcasts Tuesday's thru Sundays – say "Hi" to dem at home
Ossies or Best of the West for Jerk on da beach road
Sunrise for Italian or Pizza on da beach road
JahB's on da beach road for Scooters, Food and Cottages
Jenny's on da West End Rd for best prices on breakfast, lunch and dinner – "Special Cake"
Wild Thing for a sunset cruise and open bar
Royal Palm Reserve with Famous Vincent
White Sands for 2 for 1 specials on beach
23/7 for drinks anytime on beach
Alfreds for breakfast on beach
Canoe on da West End Rd for great food and drinks – 200J Red Stripes
Fishing with Capt Stanely
Xtabi on da Cliffs for snorkeling and food and drinks
Bouborn for Jerk and live music on Monday Wed and Sat nights on da beach
Alfreds for live music Sun, Tues and Fri nights on da beach
Roots Bamboo on Wed nights on da beach
Wednesday nights "On the Rocks" has a party night dj playing on da West End Road
Charela Inn blues on Thursday nights on da beach
Tuesday nights at Negril Escape Sunset Show on da Cliffs
Late Tuesday nights at MiYard for live and direct DJ's on da West End Rd
Famous Vincent for Snorkeling
Jungle on Thursday nights for Ladies Night on da beach road
Legends and SamSara Happy Hour 4 – 7PM
YellowBird Happy Hour 4 to sunset on da beach
Margaritaville popular all afternoon and good place to watch sports on a lot of TV's on da beach…
Cosmos for food at da start of Negril
Kool Runnings Water Park on da beach road
Shamrock Shop on da beach road for coldest Red Stripe Beer and fresh squeezed OJ
LTU for Chicken Lola and pumkin soup on da Cliffs
SeaStar Inn on Sat nights for $15 buffet and entertainment on da corner of SeaStar Lane and West End Road
HiLo for changing money at da best rates

Cool Runnings,
Marko
Thanks Marko!
Vinny

PS: When do you ever sleep?
Leave a Comment September 2, 2009