I can't believe I missed the West Indian Day Parade last year! I don't remember what I did instead, but if I'd gone I would have remembered what I did, since I did this, and it would have been awesome, but then I'd be comparing this year to last year which may or may not have impacted what a wonderful time I had today. But I digress…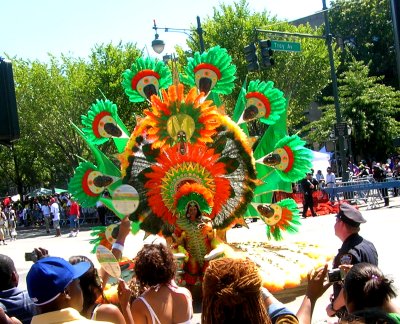 I've been living in Brooklyn a little over a year now, and in that time I've taken two trips to Negril. Today at the West Indian Day Parade I felt like I'd taken trip number three.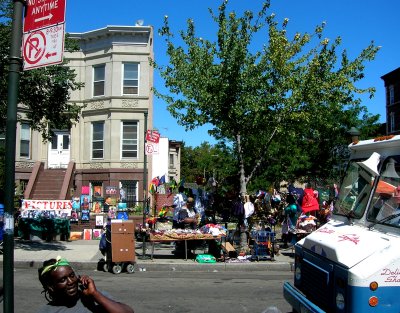 All along Eastern Parkway stretching eastward from Prospect Park's Grand Army Plaza to Utica Avenue deep in the heart of Crown Heights Brooklyn, a stronghold of Caribbean culture since the 60's, the massive parade and street fair held sway. It was as much Carnivale as a NYC Parade, hundreds of food stalls, craft booths and t-shirt sellers lined both sides of the two-mile long route.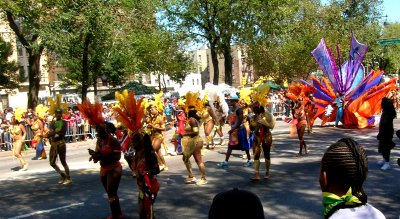 I hopped a #3 train from Atlantic Ave to the Franklin Ave. As soon as the train doors opened the sweet smell of food on the grill hit me, so I followed my nose. I went right for the first Jerk Chicken stand I saw, the old woman's lilting Jamaica patois like music drew me in. I ordered a small portion of well prepared nicely spiced Jerk Chicken. I forwent the extra packaging, I knew it wasn't going to last long, and the lid, fork and bag would just be a waste.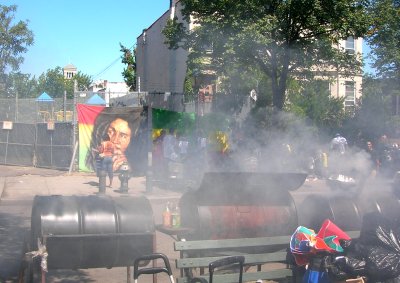 I began walking through the crowd eating my chicken, the spice cleared my head and I began to realize the enormity of this event. As far as I could see a sea of people, food being served and eaten, thousands of colorful flags from all the West Indian countries fluttered in the soft breeze of this perfect sunny day.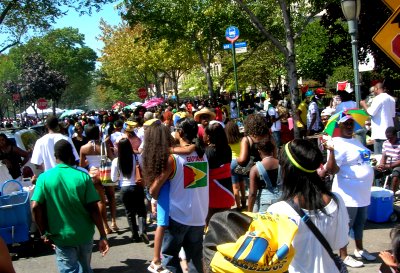 I may not be the most objective correspondent but the crowd seemed to be at least half Jamaican, or at least dressed in Jamaican flags and Jamaican colors. There was a good contingent of Haitians, and Trinis as well as Guyanans, Barbatons, and Grenadans. The food was amazing, everything you could think of. Some from organized food trucks run by the myriad local Caribbean restaurants in the area, to small family-run concerns with Grandma doing the cooking and the kids higgling for customers.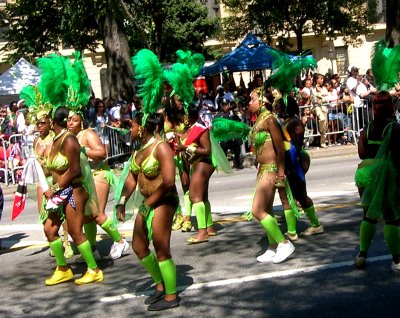 I had my main lunch, after the above mentioned Jerk Chicken, a Curry Chicken Patty, and a half frozen bottle of water, at rough looking food stand run by a group of would-be rastas. They were disorganized, a bit overwhelmed, and their spray-painted sign read Rasta-I-tal, but they had genuine smiles and seemed to be the real deal (Reshay who served me was in Portmore this time last year). I got the Curried Goat with rice and peas. It was fresh, meaty, good portion and was spot on! I gave them a card and told them I was going to write about them. I also told them to open a restaurant. They had that intangible something that turns good food into a great meal.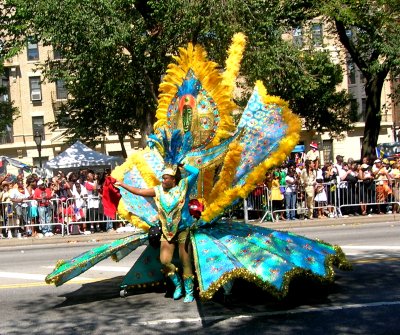 The heroes of the day were the usual suspects: Bob Marley, Haile Selassie, Martin Luther King and Malcolm-X, but supplanting them all was Barack Obama, it was all about Obama, you'd think he was running for President or something. Even Chucky Schumer's entourage were sporting "Obama is the Answer" t-shirts. I didn't wear my Obama shirt, nor did I wear my Bob Marley shirt. I don't like being "that guy." There were penty of "those guys" around. It's funny how silly wannabe white-boy dreads look in such situations.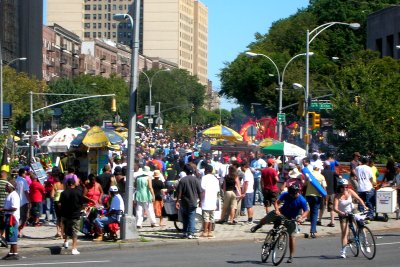 The music was loud, we were all having a good time, I didn't see any trouble, but New York's Finest were out in force. I walked from Franklin Ave. up to Utica Ave where the parade started and I ran into a Police created coral with no throughway, so I went into the subway and went back into the thick of things at Nostrand Ave, but on the other side of the Parkway. This time I walked back towards The Brooklun Museum and Prospect Park. Soon I was standing at Grand Arch at Grand Army Plaza looking back at the parade.
Fun Day


Vinny
Leave a Comment September 1, 2008