At first I thought the situation called for an ode, "Ode to Rebecca", but our entire relationship consists of two emails and a phone call. An ode might be a bit much.
Maybe I should explain: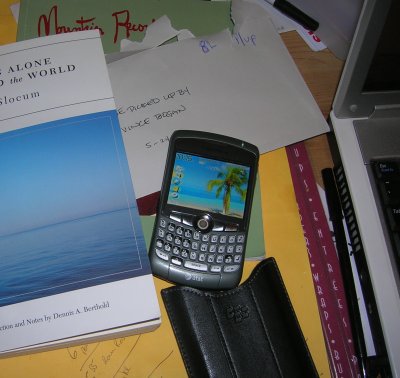 Friday night I went over to my friend Dee's place in Crown Heights. She had somehow come into possession of a wild bird, and she wanted me to help her set it free in Prospect Park. It's a whole other story. Our original plan for the day was to meet up in Manhattan, have a few drinks, and then go to see the new Indiana Jones movie. So after the bird was free and happy in the Brooklyn Botanical Garden, we hopped on a 3 train heading into Lower Manhattan.
Street level somewhere near City Hall I pulled out my trusty Blackberry and hit the Google Maps Button. Within seconds it told me where we were and where we needed to go. I love my Blackberry. I'm almost obsessed with it. It holds everything, numbers, emails, to do lists, music, and lectures on mp3. And of course I have it all tricked out just the way I like it, in the picture you can see I even created a Negril Notes theme for it. Okay, I could be a little obsessed.
The map on my Blackberry said we were too far away to meet up with our friends before the movie started so I hailed a cab and we hopped in. And that's when it must have happened! My Blackberry fell out of the pocket of my jacket. I always wear that jacket and I hop in and out of cabs, subways, busses, you name it, and that Blackberry has stayed with me every time.
When we met up with our movie companion we found out the nine-thirty showing was sold out and that we were on for ten o'clock. We walked to Chevy's around the corner to kill some time, ordered Margaritas, and made chit-chat. Dee's friend was very nice though she was obviously crazy for me, Dee pretended not to notice. Sometimes it's not easy being me. Anyway, After only one round we walked over to the Regal Battery Park, found decent seats, and settled in to watch Harrison Ford do what he does so well.
I reached for my phone to make sure it was on vibrate, and it wasn't there! I checked my other pockets; nothing. I stood up and looked around my seat; nada. I raised me arms and screamed "FOR THE LOVE OF GOD!!" Okay I didn't really do that, but I was pretty upset. I headed back to Chevy's to see if maybe I took it out and laid it on the bar for some reason.
Indiana Jones was playing in five of the theater's eleven screens, and we were in theater number eleven on the top floor. Some other showing had just gotten out and the down escalator was jammed. My stress began to build, the escalator moved glacially, and I felt like a trapped animal. I checked my pockets for duct tape to wrap around my head to keep it from exploding, but I had none! Instead I took a deep breath and tried to relax. When I was calm and still several floors from street level I realized all the people around me were talking about the movie, discussing in detail things like the plot, and the ending!
Finally back at the bar the pretty yet vacant doe-eyed bartender, who made us the shitty margaritas, disappeared for several minutes finding a manager. Meanwhile I found the bus boys and asked them in Spanish if they found a phone, I didn't know how to say Blackberry in their native tongue. "Si Si," the taller one said and my stress just deflated, I hadn't realized how hard my heart was beating. "Thanks Guys," I said as I started counting out twenties as a reward for their honesty, but I nearly broke into tears when they handed me a scuffed up Motorola Razor.
Walking back into the theater I began to think philosophically. "It's not like I lost a kidney." "I have almost everything backed-up." "I'm just going to look like an ass at work on Tuesday." "I don't mind looking like an ass." "Who cares what those bastard think!" "Who needs that f*****ng job anyway!!" Now back on the escalator I asked the big football player type ahead of me if he had any duct tape. He just looked confused, and began walking more quickly up the moving steel stairs.
I plopped into my seat in failure and disgust. My companions were sweet and consoling, which made me feel better, and by the time the myriad previews were over I was able to let go and really enjoy the film. Indy Rocked!
The rest of the night I kept calling the phone hoping the evil bastard who had it would pick it up. I was planning to threaten that I could track them on the GPS, though I never actually loaded the friggin' program.
Saturday morning I had my spare cell phone charged up and working, and I sent the number to all the people who might need to get a hold of me over the weekend. I kept calling the Blackberry which I keep on vibrate. I pictured it buzzing under the seat of some cab never to be found. But life goes on.
I took the 63 bus through Park Slope to the Food Co-Op, and as I sat there I rang the Blackberry again.
"Hello" Holy shit! Someone answered, and she didn't sound evil at all! She'd found the Blackberry in a taxi the previous night and was waiting for me to call and claim it. I must have sounded like an idiot on the phone, I was so excited, and happy, and exuberant, and relieved that I almost didn't write down her address.
She was like a Blackberry finding angel, she seemed as happy that I found my phone as I was. Whoever stereotypes New Yorkers as uncaring troglodytes are just as wrong as they can be. I've only been living here a year and the people have been great. Rebecca the Blackberry Angel is just another example.
I blew off food shopping for the time being and took the 63 all the way to the Atlantic Avenue Train Station. In minutes I was on a 4 Express train to the Upper East Side. From Eighty-Sixth and Lexington, I all but ran to the address Rebecca had given me, and that I'd written on the palm of my hand. The doorman seemed a bit suspicious as I trundled through the revolving door almost out of breath.
But, as I yanked out my wallet to show him my identification, he handed me the grey envelope that held my beloved Blackberry. I think I actually caressed it as I gently pulled it from the envelope and removed the bubble wrap. Yeah, she actually used bubble wrap! This is a woman of substance!
Before leaving I asked the doorman, that if I sent flowers or a gift basket to the building with her first name on the card, would she get it. He assured me it would.
Later that day I looked around the web for some token of thanks to send to Rebecca the Blackberry Angel, but I couldn't make up my mind. Flowers seemed corny. A fruit or cheese basket seemed too, I don't know. I went to Harry & David's to send a Moose Munch basket, but again it didn't hit the mark. So I did what I always do in times like this, I called my daughter Kristine for advice. She suggested I make a donation to New York Cares in our heroine's name. Kristine and I are recent members. We believe in the cause, and they do great work.
I emailed Rebecca the Blackberry Angel to say thanks again, and to tell her in lieu of flowers or some such thing that I was making a donation in her name.
The next morning she emailed back saying it was a nice thought but not to make the donation in her name, but in the name of:
"all of us who will loose a cell phone or need a hand, and appreciate the kindness of strangers."
She went on to say that she has been the beneficiary of annonymous efforts, and if I wanted to give something towards the "Big Karma bank in the sky," that I should go for it.
And I did.
Thank you again Rebecca. Words can not describe my appreciation.
Peace,
Vinny

Leave a Comment May 26, 2008