The night was electric, two great teams poised on the brink of immortality, an entire city humming with excitement.
"Could it actually happen?" the fans of the underdog whisper, afraid to predict too boldly. I could be talking about New York City and the Giants fans this last week. But I can't stop comparing the whole scene to Philadelphia in early February, 2005. The similarities are so obvious.
Most obvious, the opponent: The hated, cheating New England Patriots, with their golden-boy Brady smiling for the camera, posing with his super-model girlfriend, while the evil Coach Belichick hides with his video camera. Heavily favored, unanimously picked by the punditry, the veritable Team of Destiny. Eli and his Giants didn't listen, Donny Mac did.
OK, what else? There was the has been rocker Half-Time Show, this year Tom Petty, and in '05 Sir Paul, both intstantly forgotten. The Go-Daddy girl bounced in, she made her first appearance in 2005 (a personal favorite).
Then there was the last drive of the 4th Quarter. It was like deja-vu all over again! It's below the two-minute warning, the good guys must drive the length of the field to victory, to that place at the pinnacle of American sport where only the toughest, the most driven will ever gain entry. 
This is how Eli Manning looked at the end of that legendary drive: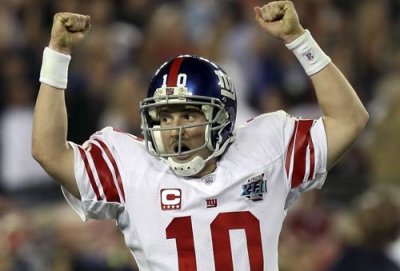 And this was
Donovan McNabb
, legendary too: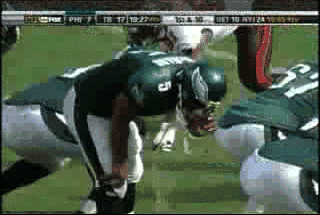 It's not easy being GREEN!
Vinny

Leave a Comment February 4, 2008