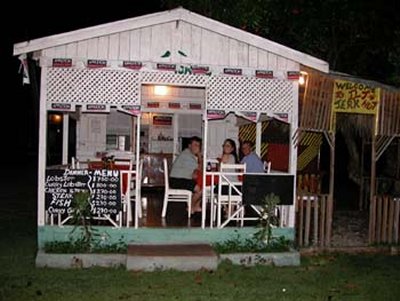 Info:
West End Road – Garden Side across from Rockhouse.
Food:
Erica's Lobster dishes are the mainstay of this little gem in the Negril cliffs. Grilled Lobster all over Negril is so often tough and/or lacking in flavor, few people really know what to do with it. At Erica's the lobster is tender, buttery and the lobstery deliciosity just explodes in your mouth.
We had a wonderful soup to start things off, then out came the lobster. We were a party of four the first night, and eight the second night. Yes, I broke my "one meal per trip" rule, it was that good! The Grilled Lobster, must have been cooked slow on low heat, it was tender and shot through with buttery flavor. We also shared Erica's Curried Lobster, though my preference is a spicy curry, the almost Thai-Style coconut milk infused curry was really beautiful.
Drinks:
I didn't go for the fancy foo-foo drinks, but the Red Stripes were cold and plentiful, and unlike a lot of places in Negril they kept them coming.
Ambiance:
I must admit to driving and walking by Erica's many times over the years and passing without a second thought. When we pulled up I thought, "Oh, this place! I always wondered what this place was…" The warmth and home-y-ness of the place is apparent as we took our seats.
Now, both times we were there with Negril royalty, the first night it was Susan and Petrona from The Blue Cave Castle (Susan took Dad and I out to dinner), and the second time it was for Queen Trudy's birthday dinner, so I'm not sure how this ambiance will stand up when next I go there with other lowly commoners.
Service:
The service was quicker than most in Negril. Friendly, but not all over you, and as I wrote above the cold Red Stripes kept coming. There was no empty bottle doing the head-waggy-whip-around looking for the server thing so often needed in even the better restaurants in Negril.
Value:
The value the first night was awesome, Susan treated. The second time, I don't remember the exact price but that doesn't really matter I remeber the value. I remember being full, happy and buzzed, driving up to Seastar thinking I must have underpaid my share of the bill, since I was only 2000J lighter and we all chipped in for the Queen of Negril's dinner.
Notes:
Erica's is one of those places in Negril that you can take newbie friends who will be so impressed with the experience that they think you are "like totally" plugged in to the town. I plan to use this to my advantage on future trips. I wish there was a website to promote, I can only say to try it. You won't be dissappointed.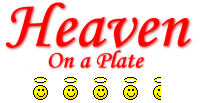 Bon Appetite,
Vinny

5 Comments November 23, 2007