This isn't a diatribe against the Eagles coaching staff for letting great player like Jeremiah Trotter go again. No, the sudden sacking of the vaunted Middle Line-Backer, or more so my reaction to it, brought into clear relief the fact that I no longer live in Philadelphia.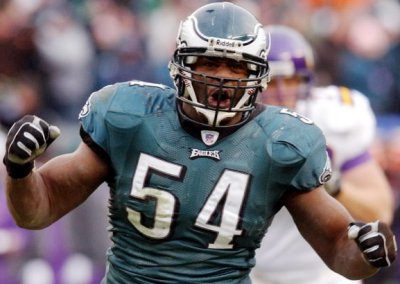 It's funny how things hit you. I worked from home today, and I spent most of the day listening to Philadelphia talk radio. The day's big hubbub was the decision by the Philadelphia Eagles to release Jeremiah Trotter. I always liked Trotter, he's a good guy, he's great in the locker room, but he was a step slow last season, and it's time for him to go.
If I took the train home to Philly, half the train would have a kind of hangover because of the Trotter news. Someone would see you reading the headline on his paper and say, "It sucks what they're doing to Trot." An affirmative grunt would rise from the throat of everyone within earshot.
Later I'd stop in the Steak & Hoagie Factory, and I'd get into a conversation with that drunken guy who is always in there watching the Phillies. Then he'd probably get all emotional, and I'd regret starting the chat.
But in Brooklyn, no one cares! No one knows who Jeremiah Trotter is, and if they do know, they don't care. I felt so foreign! 
Intellectually I knew leaving the Philadelphia area after twenty-two years would eventually hit me, but I thought it would be more, I don't know, cinematic? Like maybe catching Rocky IV on TBS, or seeing a picture of Kris and Me on South Street, but no, I'm standing on the D train heading into downtown Brooklyn pining over the future of the Eagles' Defense, and it hits me like a ton of bricks.
Now I didn't weep openly or anything like that, and I'm sure I'll get over it, but it will be a long time before I can say I'm from Brooklyn.
Good Luck #54,
Peace,
Vinny from Philly

1 Comment August 21, 2007