Cub reporter Buzz Bogan here on the scene in Midtown Manhattan where something happened at or near Grand Central Station around 6-6:15 today.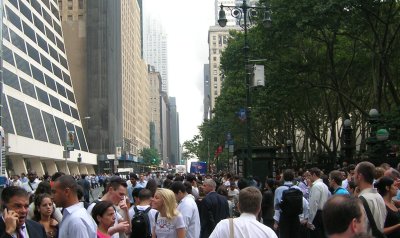 The police closed 42nd Street, only allowing westbound foot traffic, heading away from the scene. It was quite a sight! Thousands of New Yorkers walking calmly but quickly eastward on 42nd Street. This reporter saw several dozen people who looked like they were sprayed with a fine rusty dust or maybe dirty water.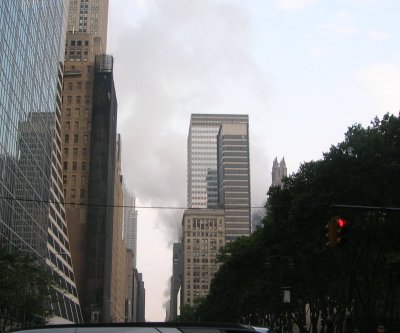 All subways in or around Grand Central are closed as hundreds of first responders rush to the scene. Police, Fire, EMS, you name it, if it had an NYC Logo; it rolled to the area around Grand Central.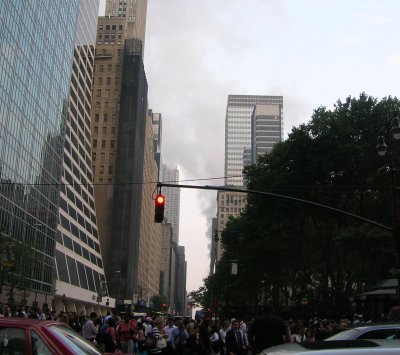 Of course we were all thinking, but no one was saying, BOMB! The word on the street was that a transformer blew up under Grand Central Station, but as you can see from my photos, the smoke is coming from the south side of 42nd, while Grand Central is mainly on the North side.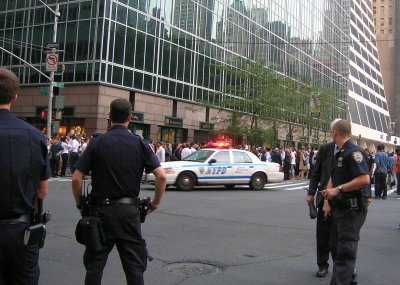 I was in Grand Central about 5:30 when and a harried call from my boss had me scurrying to find a Starbucks so I could grab some internet access, and to avert a minor crisis at an Upper West Side overpriced eatery.
After Starbucks, I ended up at 45th and 6th, eating falafel from a great sidewalk vendor, when I noticed people rushing and pointing to what looked like a cloud hovering over the Chrysler building. On closer inspection I realized it was billowing smoke or steam, so I braved bodily harm and went to see what was up.
Faces became serious, talking on cell phones, and heading away from 42nd Street with a purpose. When I reached 42nd and 6th, the police were stopping anyone from getting closer to the "incident", an after some pushing and shoving I made my way to the center of the cross street looking up at a sea of humanity completely filling the street from 5th Ave to 6th.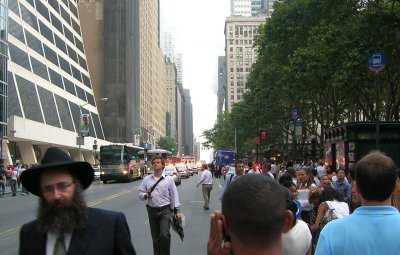 By 6:45 things calmed down, people walked south to other subway stations, and aside from news helicopters and some official siren-laden motorcades, whatever happened was over. I headed back to Brooklyn to see what the news has to say on the subject.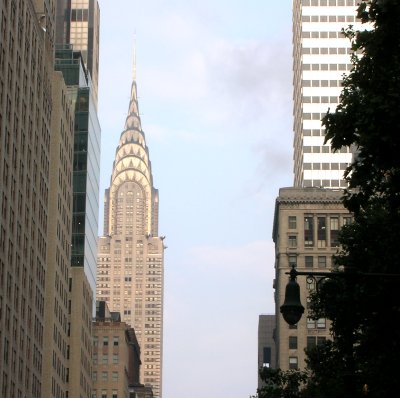 Byline: Vinny

1 Comment July 18, 2007