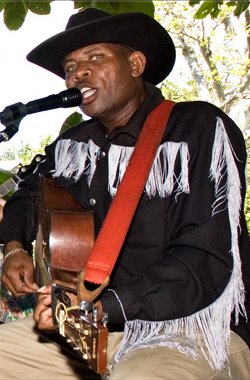 The Jamaican Cowboy was a friend of mine, though I did not know him well. Like a piper calling us home to Negril, his music and his charm filled our living rooms every Sunday morning.
Our first meeting was on my first trip to Negril way back in February 1994. I didn't know who he was when I met him, and thankfully he didn't remember me because I was naked at the time. Let me explain:
Cowboy was the entertainment for Hedonism's Island Picnic in those days. A girl I"d met on the Road to Negril bus ride asked if I wanted to go to the "Island Picnic" the next day. It"s been my experience, when a girl asks you to go to a naked picnic; you go! Flab be damned.
We ate, drank and jiggled to the syncopated, rockabilly-reggae beat all coming out of one man, and one guitar. All I can remember is thinking, "Man, dude makes that thing talk!"
I found Negril.com in late 2003, the message board, the Real Negril Sunday Webcast from Selina"s, and of course The Jamaican Cowboy. I remember scrambling to my memory box (a big plastic bin filled with my keepsakes) looking for my Hedo trip stuff, and right there on my Island Picnic Agenda, "Entertainment provided by The Jamaican Cowboy." "Yeah, I remember that guy!"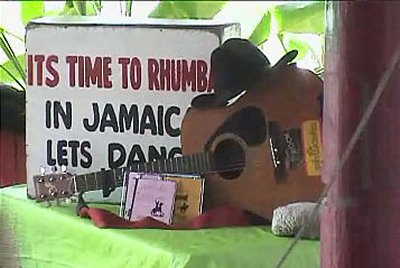 By the time I got to Negril in April '04 I was an official Boardie. I was consistently amazed with the quality and the sincerity the answers my newbie questions received.
I didn't know how to act on my first live Sunday Morning Webcast. I wore my Philadelphia Eagles cap, ordered Jamaican Breakfast, and tried to figure out who was who. About halfway through my breakfast Meg (Tom & Meg from Wilmington) came over and asked "Are you Vinny from Philly?" I said yes, and she yelled to everyone in the joint, "Hey everyone, Vinny from Philly is here!"
At first I was kind of embarrassed, but within five minutes I was part of the crowd, part of the wonderful boardie family. I met Rob. Selina hugged me. Several people whose names I can't remember bought me Bloody Marys, and Selina introduced me to Alex, The Jamaican Cowboy. I tried to tell him I was a big fan, but he would have none of it, I was moved by his modesty. He just smiled with those warm piercing eyes and began to play. He was much better in person.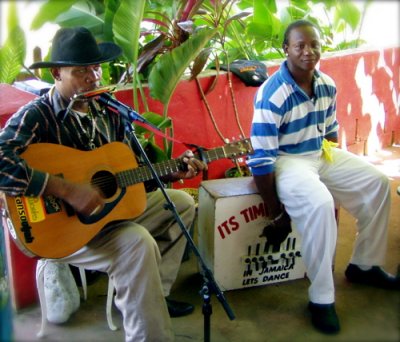 When a person on the periphery of your life passes on, at least for me, it gives the most room for pause. Forcing you to look within yourself, to come to grips with the big questions. To take a look at life, at the life lost, or at least your impressions of that life, as a mirror or even a magnifying glass to your own. Like a distant relation, one you don't see very often, but feel an attachment to. Standing at the back of the room during the wake, a partner to the family's grief, yet somehow disconnected from it.
My eyes welled up reading Selina's stoic report on the message board, the overtones of her sadness, her loss, and her tears bleed through the words catching me in the throat.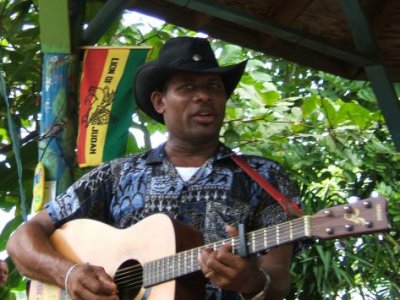 Cowboy's passing also brings to light the true hardships our friends in Jamaica face every day. We see them in town, we trade with them, have a few Red Stripes, but it's rare that we get a glimpse into their total life.
We take for granted the ease of life in the States, and in the Land of Maple Leafs. If I get a sniffle; I hit CVS for some medicine; if it holds on; I go to an excellent doctor right down the street, and even then it's just a ten-dollar co-pay.
My downstairs neighbor had a heart attack in 2005, he was ok, but it's two years later he"s still bitching about the interminable thirteen minute EMS response time. There is a lot said about healthcare in the states, but with even the most basic emergency room care, Cowboy would have had more than a fighting chance.
Happy Trails Cowboy –
Thanks to Dreadneck & Lizzardbeth for the photos
13 Comments June 24, 2007