I woke early Thursday morning, and though I tried to go back to sleep, I found myself staring at the moon-lit ceiling of Deluxe 1, our room at the Blue Cave Castle, for what seemed like an hour. Without waking Dee, I slipped out of the room to stretch my legs in the still morning air, another beautiful day in paradise.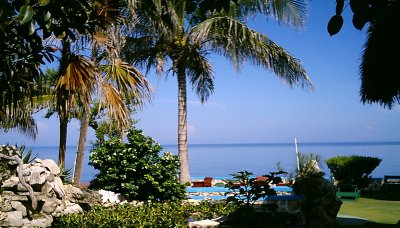 From the cliff face I looked down toward the beach. The twinkling lights lined the crescent, the water below gently splashed in the caves and on the cliff, but otherwise the morning was very silent. It was the perfect moment for meditation, to become one with nature, but I was totally preoccupied with the mornings impending tasks. Dee was leaving today. Clive was coming for her at nine o'clock for a twelve thirty flight. I knew I'd miss her, but part of me was looking forward to the three mellow days ahead.
After spending five or six hours on the water the previous day, we'd gone to Kuyaba for a nice dinner. The sultry April evening, and a bottle of better than expected French Cabernet added a special touch to the always excellent meal. Unfortunately, we hadn't realized how much the day has taken out of us, and we found ourselves dozing in our desserts.
I was hoping for a romantic last night in paradise, but we were so exhausted, I barely remember the drive back to the Castle and I woke still in my clothes.
I sat with my legs dangling over the cliff's edge as the daylight crept across the bay, trying to capture the mix of thoughts, feelings and emotions I'd experienced these past few days. I love mornings in Negril, for me they are the antithesis of sunset. Of course there are the obvious reasons, sunrise and sunset are opposites, but while sunset is a party, a celebration of another great day, and the beginning of a promising evening; sunrise is a solitary experience where, if there is anyone else about, words are rare, and personal space is respected.
I'm brought back to the present by gentle clanking in the coffee hut. I look over to see the inviting green light meaning the morning coffee is ready, and I pad across the lawn to fill a cup from the urn of fresh brewed Blue Mountain coffee.
The sun was up by the time I finished my second cup, and a few of our fellow castle-mates were milling about in the pristine morning air. I went inside to hop in the shower, see if Dee was awake yet, and maybe to order some breakfast from Brown Sugar.
"What time is Clive coming?" Dee shouted into the bathroom.
"He'll be here at nine sharp, he's always on time. Do you want some breakfast?" I answered.
"Yeah, I need to get a little sun before I go." And off she went.
Its funny how Brown Sugar's portions get bigger, and the delivery times get faster as the week wears on. Part of me feels bad how much impact a 200 to 300j tip can have. Maybe just a tinge of American guilt, I was brought up Catholic after all.
I lay in the sun for a while with Dee. Only for a few minutes though, I'm a burner, not a tanner. It amazes me how dark she gets in only a few days. She has more melanin in one square inch than I have in my whole body, so I just lay there and enjoyed all her square, and not so square, inches.
Eight-thirty came quick. I must have dozed off. I went into our room and Dee was dressed and stuffing her belongings in her suitcase. Clive was early. A couple from Ohio was also leaving, and Clive had been hired by the Castle as their airport transfer.
Dee said her goodbyes to the staff of the Castle. She'd gotten pretty friendly with Susan, Petrona, and especially the two dogs that lived on the property. I didn't get their names.
We stowed Dee's bags in the back of Clive's van, and within a few minutes we were on the road. I asked Clive to stop at the Scotia Bank in town to get some cash. The Ohio couple seemed impatient with me. I got some US dollars for Clive's services and for some flying money for Dee. The Ohio people gave me a strange look as I handed Dee a stack of bills saying, "You were worth every penny."
"I'm worth a lot more than this." Dee replied; joining me in the teasing of these relatively uptight people. What I didn't notice is that Clive was looking on too.
He gave me a big smile, "Vinny is a big man for sure!"
Dee and I joined him in laugher, "I'll explain later me friend." I said, and with that we were back on the road.
The trip was quiet. Dee seemed lost in her thoughts and the Ohio people slept most of the way. I chatted away with Clive as each milestone took us closer to Montego Bay and Sangster International Airport.
Sangster was packed. I never thought Thursday as a big travel day, then again, I never really gave it much thought. The US Airways line snaked all the way across the terminal. It worked out that Dee and the Ohio people were on the same first flight to Fort Lauderdale. They would go on to Cleveland, while Dee was headed back to Philly.
It was 11:15, and the line was barely moving. Since I had no place to hold I went looking for someone in a US Airways uniform to see what was up. I grabbed the first guy with a clipboard and gave them Dee's flight number. He came back with me, and whisked Dee and the others to a special line. We said our good-byes.
A few minutes later I was back in the noon-day sun looking for Clive. I hopped in the van, and we motored into downtown Mobay.
"It's Lunchtime Vinny. You ever eat Rasta I-tal food Vinny?" Clive asked.
 "Yeah, sure. Vegetarian food right?" I answered, hey, I'm a traveler not a tourist.
"Not like the places in Negril, we'll go to the real thing." Clive's seemed different. The tour guide facade coming down.
I'm always looking for an authentic experience, so I was psyched as we drove through the back streets of Montego Bay. The crumbling infrastructure was at once depressing and encouraging. The buildings need work, the electric grid is precarious at best, but the people seem upbeat and active. Everyone headed here or there all trying to make a buck in the daylight.
We pulled up to a small strip mall. The storefront window was painted black with yellow, red and green writing. There was also a prominent yet simple yellow and black Rasta Lion.
I hopped out of the van as Clive bumped fists and spoke in rapid-fire patios to the several toughs standing out in front. They gave me the hairy eyeball as I walked past, but since I as with Clive, known to these guys as Buffalo, his other name, I was ok.
Inside I was surprised. I feel bad for being surprised. I don't know what I expected, but the place was very clean, the people behind the counter wore spotless white uniforms and had the demeanor of monks in a temple.
Clive ordered his food, and asked how hungry I was, while extolling the virtues of i-tal food. I asked for something light, and Clive ordered for me. I couldn't understand a work he said.
I reached in my pocket when our food came up. Clive touched my arm and motioned for me to keep my money. He paid and took our food to a picnic€"style table in the next room. I grabbed my fork and was about to dig in, but waited as Clive finished a prayer over his food.
"We need to give thanks. We've got food to eat." Clive said, regaining his normal personality.
"This place is different than I imagined." I stated looking around. "It reminds me of a Jewish Kosher Deli in New York City."
"We're not Jewish, but we do have rules about how we prepare our meals. Rasta-style!" Clive was serious as he ate.
"Is there a current relationship between Jewish and Rasta? The whole Lion of Judah thing, I know a little about that." I said.
"Yah Mon, it's a likke like that." Clive said, but he didn't elaborate. I figured he didn't want to get into a religious conversation with and infidel in this place. I let it go and finished my meal.
We took a different route back to Negril, heading south out of Mobay through beautiful country. I figured we were going over the hills to Sav-La Mar, but after about an hour we stopped in a town called Grange Hill deep in the hills of Westmorland Parish.
The place was quaint, a real outpost deep in the heart of Jamaica. I was sure I was the only tourist within miles. I loved this place, the people were nice, no higglers. Clive went in a store to talk to his comrades, and I bought a newspaper and a bottle of water.
The verdant beauty of the area made my heart soar. I pretended to read the paper, but I was really soaking in the scenery, the people, and the town. I resolved to do some research on this place, and to come back for the day.
Clive's business was done, and in no time we were pulling up to the gates of Blue Cave Castle. I shook Clive's hand, and confirmed my 2PM Sunday pick up. 
One more after this

Vinny

Leave a Comment April 15, 2007