A few weeks before last trip to Negril, I was doing some spring cleaning, getting the Love Shack ready for Christmas. Yeah, I was spring cleaning in November, make your judgments as you must.
Anyway, I came across a package of battery powered Christmas lights in the back of a closet, and a wonderful idea began to form like in "When the Grinch Who Stole Christmas" when the Grinch's heart grows two sizes too big.
"I'm going to decorate my patio at The Castle with Christmas lights, just like Calico Jack would have done, all things being equal and stuff. Did I mention I drink when I clean?
Luckily I noticed some discoloration on the package before I stowed the lights in my rolling duffel bag. At first, I thought Rosie "The Cat" peed on the box, somehow punishing me for leaving her with the evil kid down stairs for a week, but, upon closer inspection, the battery pack had corroded, and all the wires and lights were fused together is a sticky tangle of yuck.
"Well, So much for Christmas lights," I tossed them in the trash, but didn't take them off my list.
A few days before my departure, I was in Target (pronounced: tar-j-A) picking up the few last things on my packing list, when what to my wondering eyes did appear? A huge bin of bargain basement Christmas lights! I took it as a sign and picked up a twenty foot strand for a dollar and ninety-eight cents.
Finally in my room at The Blue Cave Castle, I dropped my bags and plopped on the big bed. The salty evening breeze billowing the lacey white curtains, throwing gentle blue shadows around my familiar room. I could have called it a night right then, but I had plans. I walked into the bathroom, and was revived under the cool fat-water shower.
"Christmas Lights!" Popped into my mind, and running from the bathroom, I was barely dry before tearing into the small yellow box of colored lights. Unfortunately, there wasn't any convenient power on the patio, and no way was I going to wait till tomorrow to pick up an extension cord.
So I looked around my place, and I found a socket near the big bay window that faced the Caribbean. Aahh, this was the perfect place to express my Yuletide spirit to passers by.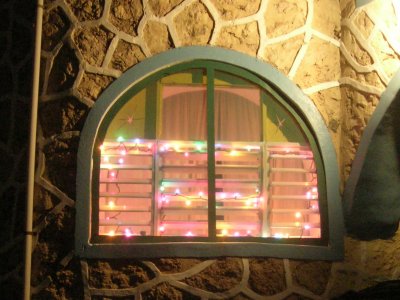 I ran outside to view my handiwork, and I have to admit the lights looked fantastic. I sat on the Castle wall for a while with a cold Red Stripe luxuriating in my accomplishment. After ten or fifteen minutes I remembered I was expected over at Xtabi to meet up with friends for dinner. We had a date with some five star jerk at 3Dives, so I went inside to put on some good clothes.
"Woooooooo," someone was shouting from somewhere behind me. I spun around to see a glass bottomed boat about thirty yards out on the sea, silhouetted black on black, I couldn't make anyone out.
"Merry Christmas!" A woman's voice shouted. "Love those lights!" 
I walked to the patio wall and waved, "AARRGGHHH! Merry Christmas Me Matey's!"
"Thank You, Happy Christmas Pirate Mon!" replied a smiling Jamaican voice as they rounded the cliff and faded from sight.
Needless to say the lights were a big hit.
Vinny

1 Comment February 26, 2007