October 10, 2006
Wednesday morning drifted lazily into early afternoon, now solidly on Jamaica time, sunbathing and book reading broken up by short dips in the sea. Sometime after noon Petrona told us Famous Vincent was on his way.
"I can't wait to see the sharks," I said excitedly.
"Sharks?" Dee said dryly, "Don't mess with me," clearly implied.
"I'm teasing, there are no sharks till you get out past the reef," I said knowledgeably, though I was talking out of my ass. I'd never heard about shark attacks in Negril, but then again, you rarely ever hear of bad things happening in Negril. I often promise myself to do more research, but I'm not ready to shatter my, probably naive, view of a shark-less island paradise.
I didn't know what to expect, all these trips to Jamaica and this was my first snorkeling adventure. I even bought the best snorkeling set. Dee is a strong swimmer and couldn't wait to get out to the reef, though the idea of those pointy little fish still had her concerned.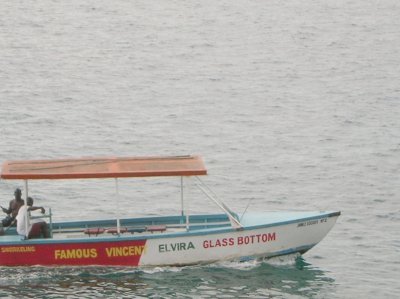 We made our way down the cliff to the water's edge and Famous Vincent was there waiting for us. His 20-25 ft. boat was old but sturdy, the seating area had flat wooden roof, and the sea bed was clearly visible thru thick plexiglass panes in the floor.
"You must be Vincent!" I shouted as the smiling Famous Vincent helped us board his boat.
"Yes, yes! Welcome." We shook hands.
"My name is Vincent too, everyone calls me Vinny." I don't know if he heard me, or maybe meeting a fellow Vincent wasn't a big deal to him, being famous and all.
"I'm Dee, I call him Vince," Dee said separating her self from "everybody" and shaking his hand as we settled in.
As we pulled away from the cliff face we heard someone yelling "Wait!" We looked up to see Scott and Deb, our castle-mates, waving us down. Famous Vincent steered the boat to the swimming platform as Scott and Deb made their way down the steps. Soon we were underway, chatting loudly over a gunning engine, and the splash of bow cutting through clear blue sea.
Famous Vincent gave us a rundown of what we were getting for $20US a head: a trip across the bay to a section of reef out near Booby Quay; thirty to forty minutes in the water; then back to the Castle. The views were invigorating from the little boat, the sky was clear the water calm, I felt confident my Gilligan's Island fears were for naught, anyway this was only a one hour tour.
"What a view, huh," I said to no one in specific, eloquence lost on the blue sky with perfect puffy happy clouds like an Windows screensaver.
"Are there any sharks?" Dee asked Famous Vincent.
"Not around here, farther out maybe, and some Nurse Sharks out by the Lighthouse." Famous Vincent answered pointing to the tiny lighthouse several miles to the south.
Satisfied by his answer Dee went into her story of the long skinny fish that she felt had assaulted her the day before. I was getting a little tired of the story, but she told it well, and she had us all laughing.
"I'm sorry, we have spoiled our fishes here in Negril, they were looking for a little lunch, we feed the fish here, and they're not afraid of us." Famous Vincent explained, "We'll feed them on the reef, you'll see." Terror turned to excitement at the thought of hand feeding the fishes. I just hoped they were small toothless fishes.
We were about even with Rutland Point when the water became noticeably shallow. The water was swimming pool clear, and I couldn't wait to get in. As we slowed you could see how the low tide exposed pieces of the reef like dark rocks in the dessert. Famous Vincent dropped anchor and began to hand out the gear.
Scott and Deb had their own equipment, Dee and I donned flippers, mask and snorkel. I put on a life jacket since I am not so comfortable in open water. I looked pretty stupid, but felt safe as I jumped off the boat. Famous Vincent gave us a few snorkel pointers, and soon we were headed towards the reef.
Focused on breathing through the snorkel, and trying to keep up with the better swimmers, I had to suppress a gasp when I looked down to see the reef spread out before me, Wow. Small schools of colorful little fish just below me, bigger ones below them, and spiny urchins filled nooks and crannies.
"Awesome!" I hear Dee's voice above water, I look over to see Famous Vincent in the midst of a hundred yellow fish with bright blue stripes, but before I got there Dee and Famous Vincent were back under water. I drew closer to see Famous Vincent stuffing something into Dee's hand, as she extended her arm she was swarmed by the same hungry fish, she was actually laughing under water.
We swam a few yards towards a larger reef structure when Famous Vincent came close to me and stuffed some bread he had in a zip-lock bag into my hand. Within a few seconds little fishes we everywhere, totally obscuring my vision, soft little mouths nipping toothlessly at my fingers. What a rush! When the bread was gone I spun around, fish everywhere, I was like a kid at a petting zoo.
"Woo Hoo! That was sooo cool!" I shouted surfacing. Dee was beaming, the water sparkling in her eyes, the ear to ear grin, totally unguarded.
A second later we dove back under water following Famous Vincent through a maze of coral mountains. The reef tops were so close to the surface that we had to swim around, and through them. We were in the reef more intimately than I'd imagined. Nearer to the bottom darker colored fish poked their heads out from under ridges to check us out.
I started thinking Moray Eel as hours of Discovery Channel warnings streamed through my brain: Don't touch the coral; Watch out for Jellyfish; Don't eat yellow snow!"
We must have looped around the reef. I looked up to see Famous Vincent's boat about fifty feet ahead. Deb was already on the boat, and she helped me out of the water. Famous Vincent helped Scott and Dee aboard.
My life vest may have looked stupid, but it made for an awesome trip. I never had to worry about swimming I just kicked my feet and kept my head under water, who cares if I looked like a spastic whale trying to surface. There were a few times I wanted to dive deeper to see things on the sea floor, and maybe I'll be more sure of myself on my next trip through the Octopus's Garden.
Back in the boat, we were all, "Did you see that?" "Did you get pictures?" "Lobsters look scary!" It was a great time. Such a great time, in fact, we didn't want it to end. So, when we dropped Scott and Deb back at the Castle, I haggled with Famous Vincent for a nice slow cliffs cruise up to Rick's Café.
I say this every trip, yeah it's a tourist trap, an all-inclusivers one trip off the resort, their noses pressed up against mini-bus' windows, maybe they'll see some real Jamaicans. But I still like it. Famous Vincent, Dee and I took a slow trip hugging the cliffs past numerous resorts.
Samsara looked great from the sea, I wonder if those pillar cottages are as cool as they look. Next, we passed Xtabi where we had a great meal a few days previous. I was glad to see the ocean view of the Coral Seas Cliffs Resort, their cliffs were untouched, non-developed, no water access, maybe that's why they are so inexpensive.
Tensing Pen, wow! It took my breath away. The new post-Ivan villas peek out from the jungle-like setting, yeah the joint is expensive, but what a primo spot. We also passed Sea Grape Villas, another sexy high end place, but still cheaper than a week at a cage like Beaches.
Soon we were approaching Rick's Cafe, and for a late afternoon Wednesday the place was happening. The divers were doing their thing, and from the lower perches little kids we working the crowd diving for tips. Famous Vincent pulled into the little cove and dropped us off near a ladder, telling us he'd be back in an hour and to look for him.
We climbed the limestone stairs to the restaurant level, they really did a big job expanding the place, and we bellied up to the bar and started a tab. We ordered Coronas with lime, and a few shots of tequila. The bartender looked at us thinking we were a few hundred miles east of Mexico. We claimed an umbrella table in the middle of all the action, and toasted Jah as the band went into a soulful rendition of No Woman, No Cry.
Divers to the left, a rowdy bar to the right, and the house band in front of us. We ordered more shots when the waitress came with Corona refills, and our appetizer sampler. I felt like such a tourist, drinking Corona, eating Buffalo wings from the appetizer sampler, all while wearing a very loud Hawaiian shirt. I guess I was in a Jimmy Buffet mood, I've always thought his Margaritaville was an attempt to capture the feel of Rick's Cafe anyway.
I was pretty wobbly as we tried to dance to the house band's version of Johnny Nash's I Can See Clearly Now, but I soon found my groove, and truth be told, I dance best when wobbly. From the dance floor, dance patio anyway, we saw that Famous Vincent had returned. At first we pretended not to see him because we were having such a good time, but we soon hit that reorder or don't reorder point of no return. So, we paid our tab and stumbled down to the boat dock.
Famous Vincent was there waiting for us, and we managed to make it on board without any embarrassing miss-steps. Famous Vincent was laughing at us as we laughed and carried on, it was then we noticed an older couple sitting at the bow looking at us like we were crazy people.
Tom and Pat were from Indianapolis. They were staying at The Rockhouse, and were eager to make it back to their veranda for sunset. They asked us to join them, but Dee didn't like the way hubby was ogling. I'd like to say wifey was ogling me, but alas, she wasn't.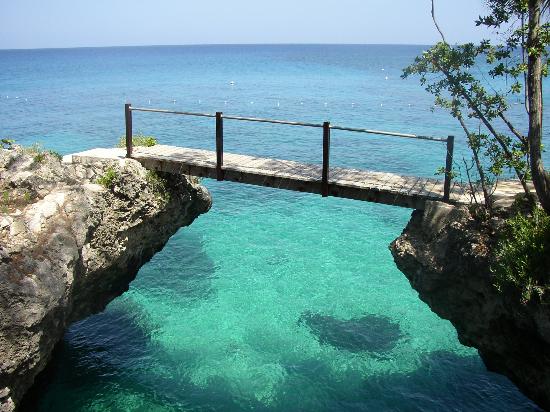 "Almost sunset, do you want to stay on the water?" Famous Vincent asked.
"Yes, please that would be awesome," Dee replied.
I leaned back at the bow of the boat as Famous Vincent slowly motored out into the bay. Dee came over and leaned against me. Moments before the sun kissed the horizon Famous Vincent cut the motor. It was so peaceful out there as we rocked ever so gently on the placid Caribbean. We had the best sunset spot in Negril that night.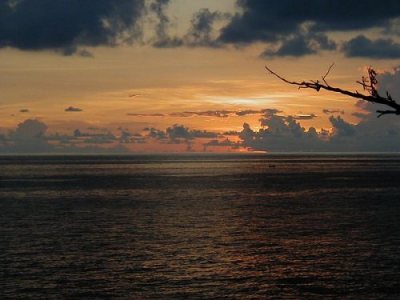 Approaching the night lit Blue Cave Castle we were impressed by its majesty sitting there on the cliff all alone.
"This is really the best place," Dee said. "The other places may be fancier, but they don't stand out like The Castle does; Everyone remembers this place when they go by."
Peace

Vinny