I planned to spend the day in Philly, hang out, do some people watching, but I missed the damned train. Undeterred, I figured I'd grab the bus, and I was only steps from the stop when the southbound 55 bus roared passed me.
I was about to give up and hit the diner for a late breakfast when a northbound 55 crested the hill. Seeing it I thought, "Maybe I'll go to the mall and buy a book," and a minute later I was dropping my token.
The 55 bus runs from Olney Station in North Philly to the Willow Grove Park Mall (about a mile from my house), and once every hour or so, it continues 12 miles north to Doylestown, PA. I'd always heard Doylestown was a nice place with a cozy historic district, and since it was a bright sunny day, I decided to take a trip.
I de-bussed at State & Main. State & Main, how middle-America-ville can you get. The historic downtown was clean and well peopled at 11 o'clock on Saturday morning. Quaint shops and cafe style eateries lined the narrow streets. Historic houses remodeled into B&B's sprouted shi-shi restaurants at street level. Well dressed suburbanites were window shopping, their kids eating ice cream on the warm summer day. Enough to make you puke, huh?
Doylestown was founded by the Doyle family in 1692 after receiving a land grant from Willy Penn himself. I felt an immediate kinship with the Irish founders until I read they were actually French, moving to Ireland during the Inquisition. I guess that was a pretty good move, the Inquisition never sounded like much fun.
It's not all high-end boutiques, I browsed Siren Used Records (yes records) a wonderfully dusty place. Speaking of dust, on the next block was Bucks County Used & Old Books, a no-pressure place to wander about and loose yourself for an hour. There were also strategically placed coffee shops if you're jones'in for the bean: Bucks County Coffee, Coffee & Cream, and Cafe America to name a few.
Over on East State Street is an art-house cinema; The County Theater. I'm not a big fan of that kind of stuff, but the art deco facade was striking. Around the corner sits Pane e Vino a laid-back Italian joint with outdoor seating, and on Printers Alley a place called Puck, located in the basement of some stuffy bank building. Puck is a funky little place, its sign is a arrow pointing to the basement steps, offering live music and good food.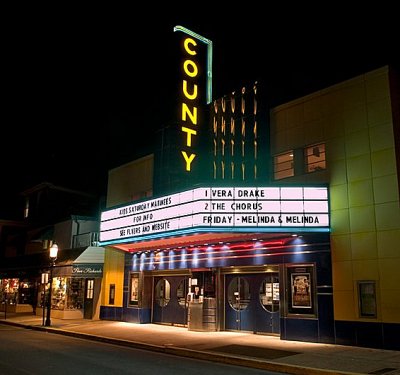 Across from The County Theater is the Masonic Lodge. Built in 1840 the lodge is perfectly restored, well kept and oozing with evil (I read the DaVinci Code). Back on Main Street I stopped in The Other Side for a pint of Guinness. This was my kind of place, a comfortable neighborhood bar with Irish flavor, and this one had a white tablecloth bistro attached.
I can't wait to try some of these restaurants. Paganini has a outdoor cafe fenced in with some kind of vine obscuring the patrons from the sidewalk. Slate Bleu is a date destination; a warm atmosphere with exposed brick and timbers, in a revamped circa 1864 building.
In the late 60's and early 70's the explosion of malls found Woolworth's and the other American Main Street mainstays loosing-out to one-stop convenience. Lucky for the people of Bucks County, in the 90's a few business and community leaders bought up those dying buildings, restored them, and saved them from the wrecking ball.
The cafe I wrote this in is the former William Doyl's Tavern built in 1745, and was the original name for the area. Of course it's now a Starbucks, really, it is. I'm reserving judgment though. Fifteen years ago there were plans to turn The Fountain House, as it was then known, it into a municipal parking lot, but now it stands proudly as a glittering jewel of post-millennial Americanism.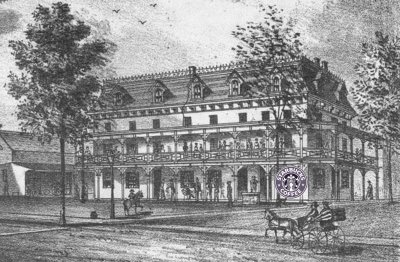 At three-thirty I hopped on the 55 bus back to Philly. Maybe next weekend I'll hop on another bus and see where I end up.
Vinny

Leave a Comment August 13, 2006