It's Saturday, AKA Laundry Day. Last night I got home from work late, about 8:15PM. I looked at the pile of stinky clothes from last week's Negril trip and decided I need a laundry run.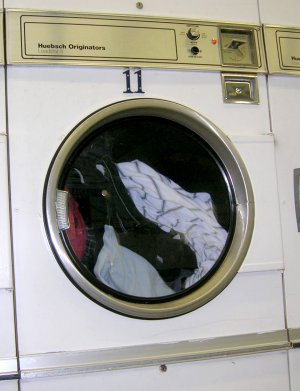 I cracked open a Red Stripe, I always buy a case after I get back, if only to prolong the vibe, and I began sorting my clothes.
First I pulled out all my shorts. I checked the pockets for business cards, Jamaican money and maybe the errant spliff. I knew I wouldn't find much since I did the same thing before leaving the Blue Cave Castle, but I found myself feeling hopeful during the process anyway. I did find a 1J coin!
As I shook out my shirts nostalgia was coming over me.
"Wow, that's a Jerk Chicken stain from Thursday's sunset at the Castle!" I'd been paying more attention to a girl in the yard, than to my fork. Not a smooth moment, but it was a great sunset.
Then I pulled out an old Ruby's Diner t-shirt (one of my favorites). I'd worn it around the Castle the first few days, and it was speckled with all kinds of memories. Blue Cave's amazing Blue Mountain Jamaican coffee, some Callaloo and Saltfish from Brown Sugar, and on the back was some algae and dirt from the platform near the water. I was watching Dolores in the calm Caribbean water as I leaned against the cliff face.
Then there was the loud Hawaiian shirt I wore to Selina's for the webcast on Sunday. The cast wasn't working, but there were quite a few boardies hanging around, Rasta Stan, SLP, TLC, DanaP, Yard Man and Yardie, Julie, Ras Walleye and MNKaren to name a few. The Cowboy was in rare form that day. His new rumba box guy sang a likkle harmony and added to the show. Later Rob and I headed over to Risky Business and we hung out for the sunset webcast. It was a great last day in Negril.
Well I better get my laundry done. Jonesin for JA!!
Peace

Vinny
Leave a Comment April 29, 2006