I had on a decent beer buzz walking in through the castle gates. It was still raining so the security guy took me right up to my room.
I couldn't help feeling disorientated as I was hustled through lopsided porticos and winding stairways of this grand castle by the sea. I tried to get a sense of the place but only caught it in glimpses.
I stumbled though my doorway bags in tow, and I startled Claudia the housekeeper who was busy sweeping water out of my mildly flooded room. She must have opened all the windows to air out the room and was caught off guard by the severity today's storm. I guess the place was built primarily to look cool, and it seems some tenets of proper architecture were overlooked.
I plopped on the big comfy bed and told Claudia not to worry about the floor. "I'm not one of those guests." I said with eyes closed.
She smiled in that Jamaican way, lighting up the room as she pulled the incongruent doors closed. Jamaican women are so beautiful.
I don't know how long I slept, but it was still daylight, and from the seaward window I calculated about two hours to sunset. The floor was still a bit damp, but the clouds were gone and the sun had baked everything dry.
The nap did the trick though, my energy level was back and I cranked up IRIE FM. I danced around like a white boy as I unpacked, then I took a cool shower to wash off the residual travel goop.
Showered and cool, I dressed, and headed outside to check out the Blue Cave Castle. The bright sunlight on the white castle, highlighted in blues and yellows made me to spin around to get it all in. The place was so damn cool, like a majestic fortress from a distance, but close up it's more like a Dr. Seuss book or a Disney exhibit.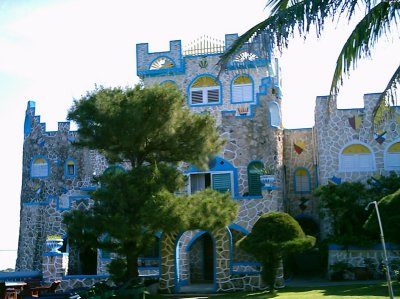 I headed out through the gates and took a walk to a little market maybe a quarter mile towards town. The road was hot and dusty, my inherent laziness almost had me hop a cab, but I pressed on, chatting with locals and merchants along the way.
I enjoy this aspect of travel to my little paradise. I read trip reports of people who just don't get it, a mix of gullibility and probably something worse. It's almost like it gives them a sense of satisfaction to join the small but vocal chorus of people who perpetuate negative Negril rumors.
I picked up water, beer and some other goodies, bananas, mangos and the like. I had to settle for a pack of ginger snaps, they didn't have Jackass crackers, damn! On the way back I whimped out and hopped a cab for a mildly overpriced $100J trip to the castle.
I must have guzzled half a gallon of water in the few seconds after I got back to my room, you could never keep hydrated in the August heat by drinking only beer and Ting.
I fired up my spliff and marveled how cool the eighteen inch stone walls kept my little round room, in a few minutes I was marveling how cool everything seemed in my little round head.
The sun was in its last fifteen minutes, as it dropped towards the horizon I walked out to the yard. I met Petrona the hotel manager, we chatted for a while when she asked me if I was "Vinny from Philly." I was taken aback! No one ever referred to me as that in person. She thought it was pretty funny.
I'd given myself the moniker for the Negril.com message board a few years back, and I guess I upped the ante when I started my website and began posting my stories and editorials. I'm not sure if I liked it though, is my anonymity forever compromised? Does it matter, or am I being over-dramatic? Over-dramatic? Me?
Leaning at the garden wall staring out at the cloudy sunset, I couldn't help but fantasize I was Black Beard himself. That's the magic of this place, it may sound strange, even childish, but any guy who's stood at this place and didn't picture himself in a long double breasted jacked with gold brocades and a tri-cornered hat (parrot optional), well he really missed a great opportunity.
I was just pissed Petrona had wandered off and no one was there to ask me a question so I could answer, "Aye Matie!"
Argh! And a mighty fine sunset, it was! I say, I say.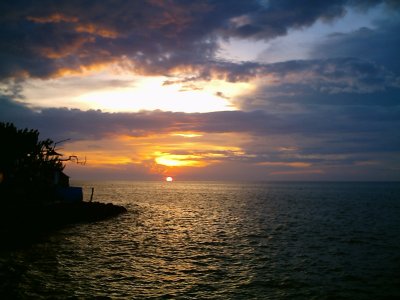 Peace,
Vinny
Leave a Comment November 28, 2005