I don't remember telling him to hurry, but our driver was a lead foot. The signs whooshed by, as the setting sun threw a bright copper light on their faces. I know I was in a goat induced stupor, but it was beautiful.
Every time I ride thru Negril I try to place my location on the map in my head, as if tracking myself on an imaginary GPS. I feel the need to play this Jamaican geography game because of all the maps in the bibliography of Negril, there isn't one drawn to scale!
I'm a map guy! Ever since I was a kid it was my job to read the map, to be the co-pilot. On my family's now legendary vacations, my Dad would give me the map and it would be my job to keep us on track. Of course this made me feel very important, hell I was 8, and without my deft map reading skills, Jah knows where the hell we would have ended up. I scheduled rest stops, I calculated miles till our tank needed filling, and I drove my sisters nuts with trivial map trivia. Looking back I realize that I'd been had! We were going to Florida for god's sake, there's only one damned road! Though back then it did change names a few times along the way. Even so, I'm still a map guy.
Soon my mental map told me we'd made it to Tedd's Shroom Boom. Walking into the yard we were greeted professionally by Garland's son (I wish I knew his name). The young man was growing up, I spared him the "you're getting so big" line, though I remembered fondly the day he and my former girlfriend played with his dog in the yard behind the cottage.
Garland, on the other hand, never changes. He greeted us with smiles and handshakes. We took seats on the porch till as he boiled water and brewed his world famous tea. The three of us made mushroommy small talk as the sun set and a warm darkness came over the yard.
You're never ready for mushroom tea. At least I'm not, I've had it a dozen times and every time I'm shocked, appalled and horrified by the overwhelmingly bad taste. I don't want Garland to think me ungrateful or critical. I'm sure he makes it as delicious as anything that grows in shit can be! Ooh, I get a full body shiver just thinking about it!
It may be the time of year, it may have been Ivan, but the shroomage was milder than my last few visits, and I was very cool with that. After the goat-citement all day, I wasn't up for anything more than a mild mind expansion.
Back at "The Shout" we mostly chilled for the night. The tea, mixed with Nick's spliffs, served to keep the talk mellow and the vibes irie.
We spent a lot of time with Mark that night, by this time I'd been hanging out with him for four days, and today there was a change. After the unimaginable stress of watching your life's work get washed away on the Weather Channel, then the horror of coming "home" to Negril and seeing your worst fears brought to life (this is the part I think is so cool) instead of crying over spilt Red Stripe, Mark took action. He got the rebuild going and on track immediately, more a renewal really.
We arrived only three weeks later and well more than half the heavy lifting was done. For Mark Goat-Day was a milestone, the re-dedication of his "salty piece of land" and the simultaneous defiance and acquiescence to the gods. "I'm staying!! But yeah, I get your point!"
The locals seemed also to be philosophical about all the devastation and loss. I love this about the Jamaican people, maybe it's because they live so much closer to nature than we do in the states that they understand the give and take on a very deep level. Living in concrete America nature is something we manage, something that occasionally gets in our way. We have snow tires and raincoats, sun block and galoshes. The Jamaicans don't see the enmity between them and nature, they're in nature, they are nature. We think of nature of something you see on Animal Planet, a good reason for weekend camping trips to the Poconos (of course the RV has a microwave and cable TV). There are so many things about the life they lead that gives me pause. This is the overriding everything for me. They get it. We've lost it.
Is that why so many of us come back to Negril year after year? We tell our friends we need to escape from reality for a week, when really we are escaping to reality.
Don't get me wrong Jamaicans are in no means a society of monks living in an enlightened state, humming in orange robes. It's not like that, hell for that matter, I bet a Buddhist monastery isn't like that either. I guess it's easier to look at a picture, read an article and make distinctions the last for a lifetime than to get out and see the world!
The next morning I woke before dawn, tiptoeing thru the kitchen area to make coffee, I heard voices on the yard. It was Mark and Nick discussing Negril things as Mark did his morning water ritual.
After a phattie the size of a baby's arm, Nick and I wandered onto the street and set out to meet our neighbors. Over and over, people we met seemed surprised that we didn't bail for the week.
We met Sampson, a local tough who told us he runs this area, and if we need anything we should go see him. At first he sounded pretty convincing till we met another guy a hundred yards closer to town who told us the same thing.
A bit farther down the road we met a guy names Robert. Robert was a carver, and he was rebuilding his roadside stand. As we approached he looked up and noticed us approaching, "Hey Mon! Where dat pretty young girl a yours!"
Great line, I thought, first it denoted familiarization, and second it propped up the machismo with the pretty young girl thing. Good job Robert!
Robert was a tall handsome Jamaican man with a few pickneys milling about. Want made him most impressive was that he really did recognize Nick, and was actually referring to a former Negril trip companion.
Nick and Robert greeted eachother like long lost friends, then Robert turned the familiarity into the smoothest of sales pitches.
Then in what I assumed was an ingenious way of totally disarming a prospective higgler Nick said, "Hey, last time I was in Negril I got this really unique mushroom carving, I've never seen another like it. It's sitting on my TV and I need one for the other side."
Robert looked puzzled, but also looked beaten, for he had no unique mushroom carving. Not to be foiled he countered, "I keep an eye out for one, all a da beach sellers buy from me. You come see me inna few days."
Wow, I thought my, "I'm trying to conserve cash, and I'm doing all my buying on X" (I fill in whatever is to be my last day in town) was a smooth move, but to add to the authenticity of Nick's little ploy was he was actually telling the truth! He really did need a unique mushroom carving! Now that's devious on a whole other level.
Soon we were at "Sips & Bites." I'd heard of the place, but somehow it's not a featured breakfast place in the normal Negril lexicon, which was fine by us, no crowd, great food and fast service.
We sat down and a sweet matronly woman dressed in professional waitress garb approached us and offered coffee and menus. We asked if they had Jamaican Breakfast and she said, "Of course we do, you're in Jamaica."
Most places weren't serving the National Dish of Ackee and Saltfish with calaloo and johnny cakes because Ivan blew the ackee off the trees.
"Would you like to start with some porridge, I just finished making it." She beamed proudly.
"Absolutely! Sounds great!" I replied, but I was really thinking, "Porridge? Sounds nasty, in a Charles Dickens kind of way", but what else could I say? I had to say yes, it was like your favorite aunt offering you a delicious plate of her famous Kidney Stew, you have to eat it!
In about a minute she returned with juices and two soup cups of porridge. We looked at each other intrepidly. She stood there to watch us take our first taste, and being good sports we dug in. By the time the spoon neared my mouth, the sweet pleasant cinnamon, vanilla and honey aroma filled my nostrils and made my mouth water. As the stuff hit my tongue the flavor explosion was intense, it was like oatmeal on steroids! It was the kind of good that made you wanted to lift the bowl and slurp it down, but you hold back because you want to make the pleasure last as long as possible because it's something you don't everyday, kind of like sex with a beautiful woman, well, for me anyway.
Walking back to our cottage we met a Rasta family with a pumpkin soup stand, we stopped to talk and promised to be back this afternoon for a few bowls. I didn't even know they had pumpkins in Jamaica.
Back at Banana Shout there was a bit of commotion over a new tenant who was taking up permanent residence there. Andy was an interesting fellow with an interesting personality, though it took a while for him to come out of his shell, but once he did he seemed to fit right in. Andy was a turtle.
The main part of the turtle pond was under the professional pond maintenance and the new resident seemed quite content in his new digs. Tomorrow Alex and Mark would build a waterfall to give his new home some needed ambiance.
After late morning naps and watching several rounds of cement mixing we headed to the little grocery store for supplies. We bought Ting, Red Stripe and a sack full of Jackass Crackers. On the way back we met the Rasta Pumpkin folks again and we each took a bowl back home for lunch.
We pretty much chilled till dinner time, since the heat of the day was a bit oppressive. For dinner we walked over to LTU Pub, which was pretty close by. I had some kind of chicken thing and though I love the LTU, I wasn't impressed. It was sunset time on a Tuesday and we were the only ones there. I guess with Rick's closed no one was venturing into the cliffs.
That night we relaxed, but as the night wore on I began to feel uncomfortable at first, then queasy, then downright ill! Before I knew it I was praying to the porcelain god, hugging Johnny, you get the picture. It wasn't pretty, though I did enjoy being reacquainted with all the wonderful meals I had that day!
I was done. I couldn't even hold down water or worse yet, Red Stripe! The night was fitful and the next morning didn't hold much promise. Since I was empty, I felt fine. I was just a bit light headed, but as soon as we left Sips & Bites, I had to leave some Sips & Bites on the roadside. So it went all day on Wednesday, no bueno!
Thursday morning I had an idea. No more Ting! Maybe the acid was doing bad things. I switched to water and Red Stripe, and by lunchtime I was feeling much better!
So much so, in fact, that we decided to walk up to the Lighthouse and do a little sightseeing. All the times we'd each been in Negril neither of us had ever been to the Lighthouse. Unfortunately this time would be no exception. It was closed, and a big pile of cut stones blocked the driveway. So we walked back to "The Shout" and we chipped in with Mark for a Jerk Chicken dinner prepared by Anne Marie the housekeeper.
While she was cooking we realized we needed more cash, so we headed down the road. By this time it was late afternoon and I felt so good to be feeling better and looking forward to my first full meal in two days. We didn't get more than a hundred yards down the road when Clive pulled up, again as if by magic.
"He really is Psychic," Nick said as we haggled for a ride into town.
I'm a Scotia Bank regular, but Clive took us to the National Commercial Bank in the other grocery store in town. I'd only ever gone to the HiLo, but this place seemed a bit nicer.
I tell ya, Anne Marie missed her calling, she should be a chef! The meal was beyond description, it had that nameless quality that only home cooking has. She offered to cook for us again if we wanted her to.
Everyone at Banana Shout adjourned to their separate vantage points to watch the sunset. I was on the first floor porch, Nick was up in the second story hammock, and Mark was on his balcony while Alex and Anne Marie sat at a table near Andy's pond. Physically separated but joined by the great meal and a beautiful sunset, soft music floated in from a car parked across the road. I wondered if everyone felt as I did.
-To Be Continued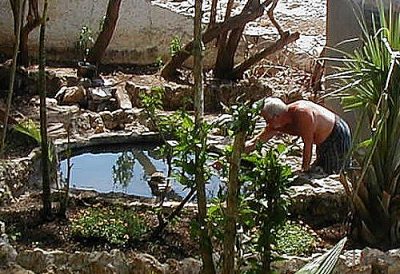 Leave a Comment May 21, 2005