As far as pagan rituals go, goat sacrifice is definitely my favorite, mainly because the price of admission is so reasonable. No cult to join, no strange or unfashionable attire, no tongue-twisting incantations, nada! And the lack of these superfluities take nothing away from the experience, it was awesome, even the goat seemed to understand and be okay in his role.
I was up early, well before the sun. I made coffee and rolled several spliffs for the ride back from the airport with Nick, and at least one to spark my morning routine. I was enjoying myself on the lower balcony this morning listening to the "gleep gleep" of the
, much more ganjafied then usual, when in clockwork fashion Mark appeared to begin his pre-dawn plant watering. The past few days we kind of acknowledged each other's presence but didn't actually speak till well after sunrise, today was different. There was a goat-y exhilaration in the air, and neither of us tried to hide our excitement for the new day.
Since hearing of goat blessing in the previous few days, I began to notice how many businesses in town had either a goat's scull on the wall or on a shelf behind the bar, or had a tanned goat skin nonchalantly hung somewhere in their place. I told Mark about my findings with some amazement, and he looked at me in a "Whaddaya think I was bullshitting you?" kind of way. I guess some things take longer to sink in than others. This goat thing was new to me.
The wake and bake had done me in and I found myself sleeping on the downstairs cot after my morning shower. I was startled awake by a strange and annoying sound. It sounded metallic, like one of the guys brought some sort of broken down piece of construction equipment and the motor had a bent flywheel and it was scraping on concrete or the housing of whatever it was, jees it was irritating! Every time the noise would come, the guys, who seemed to be in the lot right behind my cabin laughed and or made comments. It was like one of them was trying to start the infernal machine but was having no luck and the Monday morning quarterbacks were giving him advice.
This seemed to go on and on, thus thoroughly shaking the cobwebs from my head. Suddenly the noise moved to the side of my house, like right outside the back door, and its character changed as now I was hearing it in my completely awaken state. I opened the door and my entire world seemed to crash in around me, it was a goat!! That sound was THE GOAT!!
All this goat talk, goat writing in my journal, casual goat conversations on the street and even goat cold-turkey as I fought the impulse to order curried goat which screamed to me from every menu I looked at! Never once, not for a second did it ever occur to me that I'd actually be meeting the damned goat!!
I didn't know how to act! He was a stocky, healthy, cute little fellow. Was I supposed to pet him? My mother's voice boomed in my head, "VINCENT! Don't play with your food!" I was lost!
I'm a supermarket guy! I'd been to slaughterhouses, I'd even helped butcher a deer, but these were controlled environments, I never met my dinner in such an "in your face" kind of way. It's not like seeing a cow in a field and knowing in an abstract way that we eat cows, there he was. He was looking right at me!
God, I felt like such a chick!
All this happened in mere seconds. Mark broke thru my fog by calling over with a smile, "Hey don't name him!!" Everyone laughed.
"Damn!" I thought to my self, "I just called him Goat Dude, I hope I didn't jinx anything!!"
After a while things calmed down and the goat was tied to a tree in the yard to relax a little before he was killed and eaten. I have to give it to the little guy, he was a feisty little bugger, and he stood proudly as if to say, "Baaaa!! Yeah Buddy, Eat Me!!"
The guys got to work while Mark sent one of them to the store to purchase the accoutrements for the special meal of Curried Goat and Mannish Water. Zero hour for Goat Dude was to be eleven AM, there was plenty of time.
I scurried up to my balcony to try to capture this experience in my journal, but looking back I was a bit whelmed over and wasn't making much sense, no profound insight came through.
Gary, our driver, arrived at about ten AM and was ready to head out to the airport right away, but when he found out about the goat he chilled out and waited for the big moment. At about ten thirty the guys took a break and a few began washing up and standing near the goat. Mark called me to make sure I didn't miss anything, and with little fanfare it began.
Now this was not my moment. I didn't think it was appropriate to inject myself into the actual scene, so I stood back and took pictures of the once in a lifetime event.
Two of the stone masons took the goat and strung him up in the small tree by his hind legs. Mark took his best survival knife, more like a straight razor actually, and posed with the guys and the goat like he was going to actually kill the goat. After a few photos everyone stood back and let the two stone masons, now butchers, do the deed.
It was much less gruesome than I expected, though I was ready for the Texas Chainsaw Massacre. One guy held the legs from kicking around. The other took the razor in one hand, and a large sponge like one used to wash a car, in the other, and he simply slit the throat. There was very little blood. A third guy placed a bucket under the goat and after a few kicks the goat dude hung silently. The knife guy then cut off the entire head and held it up in the air to the cheers of all attending.
I was fascinated how well these guys knew how to skin and gut the animal as it hung from the tree. Americans would starve in the wild. I remember hearing my dad tell stories of killing chickens and plucking them for his mother, I guess people raised on farms still know about these things, but to us city folk it's as distant and foreign as a Fritz Lang film.
Soon the head was in a pail with the other mannish parts. Feet, heart, penis, scrotum, testicles, liver, spleen and a few other choice innards waiting for the water to get boiling, while the rest of the goat was being butchered for the Curried Goat.
By this time Gary and I were running late for the airport run, so we took off. Gary drove fast like a regular Negril taxi driver. We didn't talk much during the ride, I was in my own goat induced high and Gary was minding the potholes, another gift from hurricane Ivan.
After a bit of an ordeal, we found Nick and packed his bags into the tiny Japanese subcompact. Damn I missed Clive! But at least Gary drove fast. We made it back to Negril in record time. So we wouldn't need to stop, I'd prepared all proper refreshments needed for the hour plus ride. It was my plan to help Nick slow to Jamaica time as quickly as possible, but to hurry someone into slowing down doesn't work too well, though there was a certain level of day one decompression.
In the state I was in I'm sure the main subject on the return airport trip was the goat, and luckily Nick knows me well enough to filter my over-animated prattling and grasp the concept and the significance of the situation we were walking into.
Nick had just finished reading Mark's book on the plane and was in the ideal frame of mind to jump right into a Jamaican cultural experience as we entered the Banana Shout gates.
"Hi! I just finished your book!" Nick beamed as he shook hands with Mark.
"Thank You and welcome! You picked a great day to show up!" said Mark, motioning to the cooking area.
The next few hours were a mixture of unpacking, goat discussions, Red Stripe, Ting and ganja, lots of ganja! Nick was as thrilled with the place as I had been. It was still a construction site, but today work was stopping early and about four in the afternoon everyone gathered near the boiling cauldron of Goats Head Soup. I know "boiling cauldron" is a bit over the top, but this was truly an over the top situation.
One of the guys was ladling the soup in into styrofoam cups and passing them around. It's hard to describe the taste of Goat's Head Soup. It was a bit like gamey chicken soup, though a bit heavier. Very spicy and flavorful thanks to the chef of the day, but as I got to the bottom of my cup there were things in there I couldn't identify.
"Don't worry, we ate the testicles earlier!" Mark assured me as he caught me looking suspiciously in my cup.
"Ok, in that case" Nick countered, and began devouring the unidentified chunks of, Jah knows what.
I wish I could say I did the same, but I whimped out and only ate the vegetable looking things, though I'm sure I got some foot, penis or goat guts anyway.
There is something magical about Goat's Head Soup, no sooner did we drink it did we really become part of the celebration. Maybe the guys seeing us bravely consuming brought us into their confidence, or maybe the act of eating the soup, it actually becoming part of us, gave us that visceral understanding of the reality we were facing. Either way, I had a feeling of complete presence, of momentary enlightenment, every fiber of my being was aware and a part of all that was happening around me.
The Negril sun backlit the celebration as the Curried Goat was served over a generous portions of rice. The white rice against the bright green dish was mesmerizing, it was beautiful. When Mark handed me my plate, I felt like I was in a church, the same hollow silence seemed to engulf you, although people were talking all around. A solemnity to eating something killed before your eyes for a very specific purpose far beyond that of simple nourishment. The essence of the first taste exploded into my mouth, and a feeling began to come over me, an excitement of spiritual energy and a connection with everyone there. I wanted to think I was just really stoned, and just feeling an irie vibe, then I looked around to knowing smiles and nods of understanding, and I knew. Praise Jah!
Along with everything else the meal was delicious! There were no seconds, the cook eyed his portions perfectly and was scraping the corners of the pot as the last pilgrim was fed. There were about a dozen of us sitting around in some sort of group trance when Mark pulled out a small bottle of over-proof rum, I wish I remembered the exact details of the rum blessing, I just rode the wave and reacted to Mark's directions.
Mark passed me the bottle and I took a drink and passed it back, he then passed it to Nick who also took a sip, which kind of shook me from my daze. Nick hadn't touched alcohol in ten years, and the fact that he made this exception made me realize he was as swept up in the moment as I was. Mark offered us beers with our meals, and when he found out Nick didn't drink, he instantly knew and appreciated Nick's participation in the event, they became fast friends.
As the sun began to set, Nick and I began to plot out the week's activities. Nick's birthday was Thursday 10/14 so I said we should visit Tedd's Shroom Boom that day, Nick countered, "Let's go now!" And we did.
We walked out to the street and hopped in a cab and we were off for sunset at Tedd's.
More to come!
– Vinny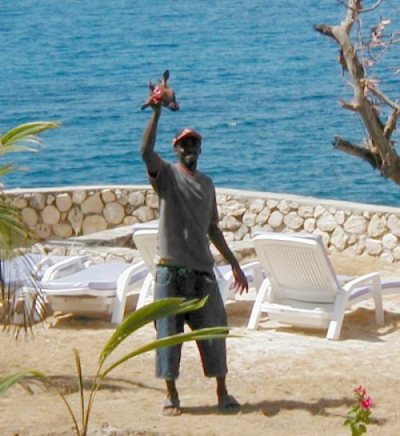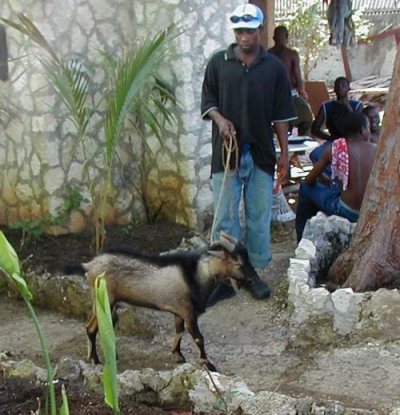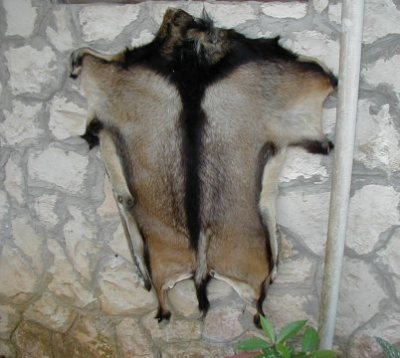 Leave a Comment April 17, 2005