Part One – Pre-Trip Stress!
As the sun sets over the Negril cliffs, I lay in the hammock on my veranda over looking the sea. On the table sits my journal, a cold Red Stripe and a freshly rolled a Sunset Spliff. A gentle sea breeze washes over me, blowing in from the southeast, the same direction from which hurricane Ivans winds and waves crashed upon this point just three weeks ago.
The Caribbean Ocean completely fills my vision as if in a giant IMAX Theater, framed by the Lighthouse in the south, and in the north by the freshly painted post holding up the roof of my two-story mansion by the sea. I try to capture the scene with my camera, but I only succeed in knocking over my beer, thus scaring the bejeesus out of my tiny lizard friend with whom Ive been sharing this spot the past few days. Its probably not the same lizard each day, but until I see two of them at the same time, he's my lizard dude, weve bonded.
Im thrilled to finally be here, it seems the entire universe tried to keep me away from Negril this trip. During the booking phase, hurricane Charley was making his way through the Caribbean. I guess I was being pretty selfish as I followed he storm, worrying more about my ten days of R&R then about the people actually in the storms path. Luckily for me and the people of Jamaica, ok, luckily for the people Jamaica and me, Charley did his damage elsewhere. The folks in Haiti werent so lucky. It seems they rarely are.
My buddy Nick is coming along on this trip, he and I go back a bit. We worked as restaurant managers together, then we were co-dependant housemates, and now finally, homeys. I owe my Negril initiation to Nick. His stories of a 1992 Negril trip were inspiring enough to get me to check it out in 1994, and the rest, as they say, is history. Over the intervening years we would each return to Negril several times, but never together.
We first discussed an October '04 trip while I was planning my April '04 trip. I was trying to get Nick to come along in April when he mentioned being in Negril for his October birthday. I was like, "Cool! I'll go back in October!" Can one get too much of Negril?
Nick and I went back and forth on where to stay, and even if we would even go at all. Finally we decided to go and to go to Banana Shout, though from the beginning, destiny seemed to be leading us there.
I'd heard of the book Banana Shout written by Mark Conklin the owner of the resort Banana Shout, so I went to Amazon.com and ordered me a copy. A few days later I received an email from Irene Conklin, Marks wife, thanking me for the order. This personal touch went a long way with me.
The more I read the more I was hooked on Banana Shout. I mean theres a book about the place, how can you not want to go to a place someone wrote a book about? Well yeah, the guy who wrote it owns the place, but still, its like a famous landmark.
Really, the only reason we thought of other places at all, was there were two of us going in on the place, and Banana Shouts prices were so reasonable we shopped around for something more expensive! Unfortunately the more expensive places came with annoying things like phones and TVs that have no place on a Negril vacation. In the end we decided to book Seaside One a spacious two-story house on the cliffs and boy did we make a great choice!
In true "Luck of the Irish" fashion, when I plan a trip to the Caribbean at the tail end of hurricane season, its one of the most active hurricane seasons in twenty years. Charley, Danielle, Frances, Jeanne and of course Ivan, Ivan the Terrible!
I watched in horror as Ivan took his toll on the Caribbean passing just south of the Jamaican coast. The news blackout was maddening. I scoured every story I could get my eyes on like it was the Zapruder film. Looking for anything that would let me know how Negril really fared. The Negril board was down, as were most Jamaican websites, and the US newsies didn't share my level of concern.
While not a direct hit, winds and waves caused fantastic devastation from Morant Bay to Negril. Negril's cliffs did their job and shielded the beach from the worst of the storm, but the damage was severe throughout Negril. Gigantic waves from the southeast crashed over the high coral cliffs and washed inland well past West End Road, tearing apart all man and nature had placed there.
I waited two days after Ivan hit before I emailed Irene at Banana Shout. I knew I was being a pain, but my PNS (Pre-Negril Syndrome) was peaking, I was hearing anecdotal horror stories, and of course I didn't purchase travel insurance.
Irene responded promptly to inform me they lost the two cottages closest to the cliff, most of the foliage, and a large portion of the seawall, but our Seaside One was still standing! She said Mark was Negril bound the following week to check out the damage first hand, and she would be in touch. It seemed Banana Shout would live on, but weather or not she could handle guests in only twenty five sleeps was the question on which our vacation teetered.
Now that was a long week. I wanted to email Irene the second Marks plane landed, but I held out for forty-eight excruciating hours, and again, a response within hours! Anyone who has tried to email Jamaica knows that the œsoon come concept extends to the cyber world also. Irene informed us that Seaside One was in good shape, and was getting a facelift. The rest of the place was being rebuilt and rejuvenated. Irene offered to refund if we wanted to postpone since there would be so much construction, but we knew the worst week in Negril is way better than any week in the real world. I told her as long as they could lash a hammock between a few trees with a tarp over it and a cooler of Red Stripe under it, wed be there!
More to come!!
Vinny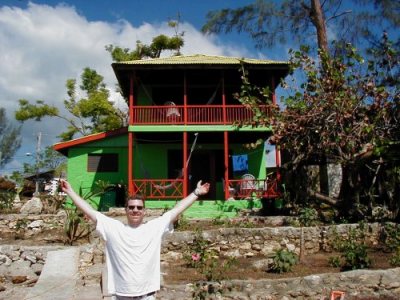 Seaside One on October 14, 2004
Leave a Comment March 17, 2005