The Day After
The next morning I had a legendary hangover, let's just say the free yoga class was scratched off my list. I dragged my massively enlarged head to the breakfast table. I had what would have been nice breakfast, but my mouth was numb. I then tried to converse with the couple from New Zealand but they just turned everything I said into rude, self important anti-American comments. What the hell did we ever do to the Kiwis? Anyway, with that I went back to sleep.
I re-woke about 10AM to find the yoga class in full swing. I watched as what seemed like every pretty woman in Negril stretched and contorted themselves in that yoga sort of way. Realizing I probably looked like Aqualung in a schoolyard, I retreated to my cottage for a cool shower, a few bananas and a three Extra Strength Excedrin's.
After the Yoga class was safely over, I wandered out to the breakfast table. The whole crew was there chit chatting with an unusually high level of animation. "Hmmm," I though to myself, "I should try this Yoga thing."
Yasmine was talking to the yoga teacher who also hailed from France, or at least had a French accent. I'm not sure which is the chicken or the egg here, was it the cool summer breezes, French wines and cheeses, or the practice of Yoga, but Damn! The yoga instructor was probably fifty, but looked thirty. She had a girlish skip in her step, and deep romantic eyes. "Hmmm," I though to myself, "I should try this Yoga thing."
Alan was there too, talking to a new arrival. She was introduced to me as Brenna from Saskatchewan. She was young, twenty one or so, her muscular build, and relatively short hair, combined with my Philadelphian male sensibility (or lack there of) made me immediately think lesbian. I find it easier to think of women I can never have as lesbians, it keeps the sting of impending middle-age at a safe distance.
Don't get me wrong, me thinking her a probable "girl-only girl" didn"t stop me from enjoying her youthful good looks. I don't know how a girl from Saskatchewan should look, but Brenna makes me want to go there to see! She was a tall brunette with green eyes and a great figure. In my mind"s eye I picture her on an idyllic Canadian farm, hauling large bales of hay from a faded red 1953 Ford pick-up (all in slow motion of course). Ragged corduroy shorts, long muscular legs, well worn work boots, and rippling abs. A thin half shirt straining to cover her large, full breasts with a grey bandana keeping the hair off of her sweaty brow, but I digress.
She was a sweet bubbly girl here in the real world, right on the cuff of being referred to as a woman, as if the woman part was keeping the girlish part at bay. Traveling alone and in Jamaica for two weeks, she had already been out to Ocho Rios and Mobay. My own daughter was about eighteen at the time and I admired Brenna's ability, to strike out alone. Of course, Alan, Yasmine and I were all traveling alone, but even young Yasmine had ten years on her and was a world traveler in her own right. In the end Brenna and I had nothing in common, except for my love of large firm breasts and her having them, but we did enjoy each other's company from time to time that week.
I was out of beer and money, so I took a walk into town. I was feeling very cosmopolitan walking through this familiar third world town. I hit the ATM at the Scotia Bank and grabbed 10,000J, which sounds like much more than it is. I walked all around downtown, meeting people and generally checking out the scene. I decided to walk up to the cliffs for lunch, but the hill rising out of town on West End Road got the best of me. So I turned around and went into the Jamaican version of a fast food chicken joint. Lunch gave me new energy, and I walked down by the craft market and onto the beach.
I took off my shirt and sandals. I walked along the water line. I'm not much of a beach person, which I'm sure seems weird for a guy who goes to Negril at least once a year, but I love walking in the surf, and sitting at a beach bar is one of life's great pleasures. I found one such place somewhere near Bamboo Beach. There was a picnic table with a big yellow umbrella and a bartender delivering 100J Red Stripes.
"Does it get any better than this?" I thought. Just then I looked up to see Brenna walking over in a bikini, "Ok it did get better!"
I bought her a beer while we made chit chat, and I tried to keep from ogling her chest. We talked about Saskatchewan and sadly I found out she didn't work on a farm baling hay. What I did find intriguing is that she wouldn't say what she did, just that she worked. She finished her beer and ran to catch-up with a few Italian guys she'd befriended.
By this time it was late afternoon and I needed some ganja and a nap. Back at my cottage I laughed at my lightweight self, seeing the spliff that had me pretty high the entire day was less than half smoked. I finished it and headed for the hammock hut.
I had a hard time negotiating the hammock. You can't really climb in from the side like a bed, but that's what I did and was glad no one was there to see me look so clumsy. After about ten minutes of jostling around I was finally comfortable, and began to read a book by Alan Watts, "The Wisdom of Insecurity." For some reason I like to think big thoughts while in Negril. The energy of the place seems to demand it and the tranquility definitely allows it. As I lay there thinking my big thoughts I noticed a ferret-like animal checking out the compost pile in the far back corner of the property, he was like a cross between a ferret and a groundhog. He scampered away as Alan came into the hut.
Alan stepped over the hammock, sat on the scrunched material, lifted his legs and slipped comfortably and easily into the hammock. I laughed at my lack of hammock savvy. I asked Alan about the large rodent and he said it was probably a wombat. I thought he was kidding, but it kind of made sense since I'd noticed animal burrowed holes in all the garden beds and under some of the cabins and porches.
Again I'd slept through sunset. Alan was gone and I was alone in the hammock hut.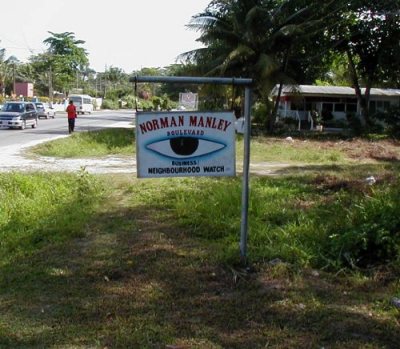 Leave a Comment January 31, 2005